Alex Salmond questions raised over MP hacking report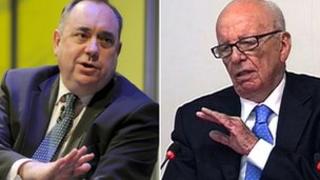 Scottish First Minister Alex Salmond has come under more pressure over links with Rupert Murdoch, after MPs said he was not fit to lead News Corporation.
Labour and the Lib Dems questioned the judgement of Mr Salmond, who met the media boss in February, in the wake of the Commons culture committee report.
The report said Mr Murdoch "is not a fit person to exercise the stewardship of a major international company".
Mr Salmond said it was not a judgement for a committee of MPs to make.
The culture committee's report came after it questioned journalists and bosses at the now-closed News of the World, as well as police and lawyers for victims of phone hacking.
But the committee was split six to four with Tory members refusing to endorse the report and branding it "partisan".
One of its members, Labour MP Tom Watson, called on Mr Salmond to set up a Scottish Parliament inquiry into hacking.
The report came following evidence to the Leveson Inquiry, into press ethics, which suggested Mr Salmond was ready to support News Corp's previous bid to gain control of BSkyB.
That bid was dropped after the hacking scandal broke.
Opposition parties have also raised concern about a meeting between Mr Salmond and Mr Murdoch at the first minister's official residence in Edinburgh, Bute House, at the end of February, this year.
Scottish Labour leader Johann Lamont, said: "What we need to know is why Alex Salmond thinks that Rupert Murdoch is still a fit and proper person to run media in this country.
"We need to know why Alex Salmond thinks it is fit and proper for Scotland's first minister to lobby on his behalf."
Willie Rennie, the Scottish Liberal Democrat leader, said of the culture committee's report: "The committee has concluded that Mr Murdoch is not a fit person to run a major media organisation - anyone who has followed the phone hacking of Milly Dowler, 7/7 victims and families of fallen soldiers in Afghanistan will have reached that conclusion long ago.
"The fact remains that Mr Salmond thought it was appropriate to court the troubled media mogul even after these revelations."
Mr Watson's call for a Scottish hacking inquiry came after he questioned the conviction of former MSP Tommy Sheridan of committing perjury during his defamation action against the News of the World.
Former Scottish first minister Lord McConnell and SNP MSP Joan McAlpine - Mr Salmond's parliamentary aide - also both claim to have had their phones hacked.
Commenting on the Commons report, Mr Salmond said: "The question of who is a fit person to run a major news organisation should be judged by independent authorities, like Lord Leveson, and by the scrutiny of an independent statutory body like Ofcom, rather than a politically divided committee of MPs split on party lines.
The first minister added: "In terms of the suggestion of a separate Scottish inquiry, the Scottish justice system does not need any lectures from Tom Watson, who seems unaware of the fact that the Leveson Inquiry includes Scotland within its remit, and the fact that a Strathclyde Police special unit are currently investigating allegations of criminality in Scotland.
"That investigation will proceed wherever the evidence leads, without fear or favour, to ensure Scottish citizens are afforded the proper protection of the criminal law.
"And in Scotland, I am confident the criminal law will be upheld."
Repeated requests
The first minister added that the Scottish judicial system was "perfectly capable" of dealing with the Tommy Sheridan case.
Mr Salmond said: "Mr Watson and other Labour MPs are guilty of utter hypocrisy, given that their party has been happy to court News Corporation for many years, but are now trying to distance themselves in the mistaken believe that the more they attack the more people will forget their past, when in fact the truth is that, the more they attack, the more people will recognise their hypocrisy for what it is."
It recently emerged Mr Salmond had been willing to call the now under-fire UK Culture Secretary Jeremy Hunt, over BSkyB, last year but the conversation did not ultimately take place.
It has now been confirmed Mr Salmond's office had made repeated requests to set up a telephone conversation between the first minister and Mr Hunt to discuss News Corp's bid to take over the broadcaster BSkyB.
The first minister has insisted he did nothing wrong, saying he had concerns over the future of BSkyB jobs in Scotland, of which there are more than 6,000.