Scottish council election: polls closed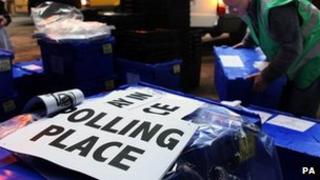 The polls have closed in elections to decide who runs Scotland's 32 local authorities.
Polling stations throughout the country had been open between 07:00 and 22:00 on Thursday.
All 1,223 Scottish council seats were contested, with turnout reported to be slow in several areas throughout the day.
Ballots will be counted electronically from 08:00 on Friday, with many results expected to come through by lunchtime.
The proportional representation system of single transferable vote (STV) was used, meaning voters numbered candidates in order of preference.
BBC Scotland news will deliver all the results live online and in radio broadcasts .
This was the first time since 1995 that there had been stand-alone council elections in Scotland. In the recent past, the local authority poll has been held at the same time as voting for MSPs to Holyrood.
In the last election, in 2007, the SNP won 363 seats, Labour 348 and the Liberal Democrats 166. The Tories got 143 seats, while the Greens won 8.
Elections have also been taking place elsewhere in the UK, including a proportion of council seats in England and Wales and the London Mayoral election.