First Minister Alex Salmond refuses to say if he was hacking victim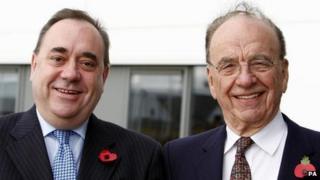 First Minister Alex Salmond has refused to say whether he was the victim of phone hacking, as he faced more questions on links with Rupert Murdoch.
Mr Salmond said he would be discussing a "range of matters" when he goes before the Leveson Inquiry on press standards, next month.
The first minister's comments came under questioning by opposition leaders in parliament.
Mr Salmond also dismissed calls for a separate Scots inquiry on hacking.
He said the Leveson Inquiry was set up with a UK-wide remit, while an on-going police investigation in Scotland must be allowed to continue unhindered.
The exchanges, during first minister's questions, came in the wake of a report by the House of Commons culture committee, which looked into the issue of phone hacking by media organisations.
Some members of that committee said News Corp boss Mr Murdoch "is not a fit person to exercise the stewardship of a major international company".
Mr Salmond has come under pressure from opposition parties over his relationship with the media mogul.
The first minister has always insisted he was doing his duty on promoting jobs for Scotland.
Scottish Conservative leader Ruth Davidson said: "This first minister reports to this parliament - so this is his big opportunity.
"Dodging the question now only to reveal all when he takes the stand later will look like media manipulation of the very worst kind.
"Was he hacked and didn't speak out to protect his new best pal - or did Rupert not need to bother tapping his phone, because he was already on speed dial?
"Parliament is asking, Scotland is watching - first minister were you hacked?"
The first minister responded: "I'll be going to the Leveson inquiry, I'll be speaking specifically about a range of matters under oath and that's where I shall give my evidence, which is exactly the right thing to do."
Mr Salmond added that the inquiry was "set up by cross-party agreement on a judicial basis".
Also raising the question, Scottish Liberal Democrat leader Willie Rennie, said: "The first minister is responsible to this parliament - why won't he tell us whether his phone has been hacked?
"Despite all the excuses, we've heard the first minister manned the barricades to protect Rupert Murdoch from a Scottish inquiry."
The first minister responded: "Leveson was established under the Inquiries Act of 2005. It's cross-border, we inputted into the terms of reference, it was set up by all-party agreement."
"We all subscribe to Leveson as being the way to pursue these issues - having subscribed to it, don't you think we should now abide by that?"
Mr Salmond said 40 police officers were looking into phone hacking in Scotland, and argued that staging a Scottish Parliament inquiry could result in a "significant risk that a criminal investigation and criminal inquiry would be compromised".
The culture committee report came following evidence to the Leveson Inquiry which suggested Mr Salmond was ready to support News Corp's previous bid to gain control of BSkyB.
That bid was dropped after the hacking scandal broke, which led to the News of the World being shut down.
Opposition parties have also raised concern about a meeting between Mr Salmond and Mr Murdoch at the first minister's official residence in Edinburgh, Bute House, at the end of February, this year.
Former Scottish first minister Lord McConnell and SNP MSP Joan McAlpine - Mr Salmond's parliamentary liaison officer and a former journalist who worked for News International - have both said they have been the victims of phone hacking.
Turning to the committee report, Scottish Labour leader Johann Lamont asked Mr Salmond: "Given the further revelations we have seen in the last few days, why does the first minister still believe Rupert Murdoch is a fit person to run an international media company?"
The first minister responded: "What I've said is that it is something that should be judged by the relevant authorities - Ofcom in terms of broadcasting and, in terms of generally, the Leveson inquiry and that's where these matters should be judged, in an independent manner."
Mr Salmond also said Labour MPs on the committee had played a part in seeing it split along party lines, rather than coming to a unified conclusion.
Following evidence to the Leveson Inquiry, it emerged Mr Salmond had been willing to call UK Culture Secretary Jeremy Hunt, over BSkyB, last year, but the conversation did not ultimately take place.
It has now been confirmed Mr Salmond's office had made repeated requests to set up a telephone conversation between the first minister and Mr Hunt to discuss News Corp's bid to take over the broadcaster BSkyB.
The first minister has insisted he did nothing wrong, saying he had concerns over the future of BSkyB jobs in Scotland, of which there are more than 6,000.