Scottish independence: Final week of referendum consultation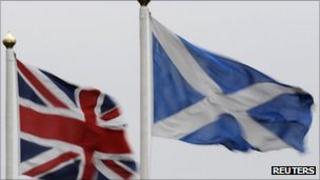 The independence referendum consultation being undertaken by the Scottish government is entering its final week.
Ministers said more than 16,000 people had already had their say on how the referendum should be run.
The SNP government, which called for as many people as possible to make their views known, wants to hold the vote in autumn 2014.
A similar consultation held by the UK government has already closed.
Government Strategy Secretary Bruce Crawford said: "By responding to the consultation, people get to have their say on things like the referendum question, where we vote, should the vote be extended to 16 and 17-year-olds and the possible inclusion of a second question on further substantial devolution.
"The management of the referendum process, the role of the Electoral Commission and ideas to increase turnout are also raised in the consultation, as are the proposed spending limits.
"Whatever your views on what Scotland's future should be, now is the time to have your say on how the referendum should be run."
The consultation ends on 11 May.
Last month, the Scottish government said anonymous responses would not be counted.
The move came after Labour expressed concern that allowing comments from unnamed people would allow the process to be rigged.
First Minister Alex Salmond has expressed his preference for a single question in the referendum, as has the UK government and the other political parties.
The SNP leader wants to ask: "Do you agree that Scotland should be an independent country?"
However, the Scottish government referendum consultation has asked people for their views on a second question to deliver what has been dubbed "devo-max" or "devo-plus" to the Scottish Parliament.
The UK government has already published a summary of the responses to its independence consultation , which it said had come from a "broad coalition" of members of the public, businesses and academics.
That consultation ended in March and drew about 3,000 responses.
Scottish Secretary Michael Moore said that three quarters of these backed having a single question, and that a "strong majority said that they want to have the referendum sooner rather than later".