'Open door' on Edinburgh coalition talks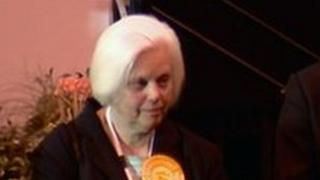 Labour leaders have said "nothing is ruled out" as they attempt to form a coalition in Edinburgh City Council.
Prior to the local government elections, Jenny Dawe headed the Liberal Democrat-run council in agreement with the SNP.
But Lib Dem support collapsed, leaving Labour as the largest group in the city, with 20 councillors.
Elsewhere, Labour has said it intends to run Inverclyde as a minority administration.
With no party gaining an overall majority in Edinburgh, it is the largest council area where the parties are facing the prospect of forming an administration by agreement.
The second-largest group in the council is the SNP, with 18 councillors. The Conservatives have 11 and there are six Greens. Just three Lib Dem councillors remain in the city.
The Labour group has played down speculation that it is seeking a deal with the Greens and the Liberal Democrats.
Group leader Andrew Burns said: "As per our manifesto, on which we have formed the largest group, we are still talking to all of the other four parties on the council.
"Nothing has been ruled out; all options are still on the table; and my door is firmly open to all of the other parties."
Negotiations
Most of Scotland's 32 councils ended up with no party in overall control after the vote on 3 May.
Negotiations are under way across the country.
In East Lothian, Labour is proposing a coalition with the Conservatives.
Labour has 10 councillors in East Lothian, the SNP has nine and the Conservatives three. Prior to the election, the council was run by the SNP and the Liberal Democrats.
Labour intends to continue running Inverclyde - where it holds 10 out of 20 seats - as a minority administration.
In Midlothian, the SNP group is set to form the administration. They have reached agreement with the sole Green councillor, Ian Baxter, which stops short of a formal coalition.
Across Scotland, Labour has a majority in four councils, while the SNP has a majority in two.