Queen's Speech produces mixed reaction from Scots politicians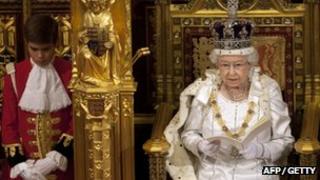 The secretary of state for Scotland believes the UK coalition's new legislative programme will make life easier for hard-pressed householders.
Michael Moore insisted the government was tackling the major issues across the country.
However, the Scottish National Party's Angus Robertson said the programme was failing to deliver for Scotland on "key tests of boosting jobs and growth".
Fourteen of the 15 proposed bills are expected to apply to Scotland.
After the Queen's Speech, in which the proposed bills were detailed, Mr Robertson said: "With the UK having fallen into a double-dip recession, we needed the Queen's speech to focus on jobs and growth but, just like the Budget, this programme fails to meet the economic challenges we face."
But Lib Dem minister Mr Moore said the Speech represented a further step towards rebalancing the economy and setting it back on the path to growth.
The address, before MPs at the Palace of Westminster, revealed that the Edinburgh-based UK Green Investment Bank would be set up under new legislation.
It will be established through the Enterprise and Regulatory Reform Bill - one of the main planks of the coalition's programme for government.
The new green bank, which will also have a London base, will be a world first and promises to create a more environmentally friendly economy.
The reform bill will create powers for the bank and ensure its operational independence from the government.
Labour's Margaret Curran said the Queen's Speech should have presented a "jobs plan for Scotland".
The shadow secretary of state for Scotland added: "We are back in a recession and need an urgent response to stimulate the economy, secure growth and get people back to work.
"We don't need a relaunch - we need a change of course.
"Nobody believes that a government which yesterday took away their tax credits and chose to tax their grannies more is suddenly interested in supporting families today.
"We should have seen a jobs plan for Scotland, action on energy bills, a fairer deal on tax, and a fair deal for consumers."
Ms Curran also criticised Mr Moore saying he was meant to be "Scotland's man in the cabinet, not the Tories' man in Scotland".
Following the Queen's Speech, same-sex marriage campaigners north of the border called on the Scottish government to "lead the way" and bring in "marriage equality".
The Equality Network's plea came after the UK coalition's legislative programme contained no mention of a gay marriage bill.
The organisation's Tom French said: "The Scottish government now has the perfect opportunity to prove that Scotland is capable of being the progressive beacon that our political leaders want it to be by leading the way on equal marriage rights."
From the Scotland Office: Bills affecting Scotland
Banking Reform Bill - Reform the banking system to avoid a repeat of the financial crisis by reducing the systemic risk in the banking system and establishing an independent commission to look at the separation of retail and investment banking.
Enterprise, Employment, Regulatory Reform and Repeals Bill - Will help support growth by reducing red tape for businesses and streamlining employment tribunals.
Public ServicePensions Bill - Will introduce a range of reforms regarding pensions, including a single tier pension and automatic enrolment into workplace schemes. It will act on the recommendations of the Independent Public Service Pensions Commission and establish an independent commission to review the long-term affordability of public sector pensions, while protecting accrued rights. ( The Scottish Government will consider its own approach to the public sector schemes for which it is responsible).
Energy Bill - Will reform energy markets to ensure investment in low carbon energy and establish an emissions performance standard for new coal-fired power stations.
Enterprise Bill - Will also see the Green Investment Bank established as a company and set its purpose, independence and funding - this will accelerate private sector investment in renewable projects. The Green Investment Bank will be headquartered in Edinburgh.
Children and Families Bill - Applies in part to Scotland and will aim to give parents more choice and flexibility in parental leave and flexible working.
Energy Bill - Will seek to encourage lower-cost energy supplies and is designed to ensure fair competition in energy markets.
Groceries Code Adjudicator Bill - Will introduce an Ombudsman in the Office of Fair Trading to ensure large supermarkets treat their suppliers fairly and lawfully in the long-term interest of the consumer.
House of Lords Reform Bill - Will establish a committee to bring forward proposals for a wholly or mainly elected upper chamber.
Electoral Registration and Administration Bill - Will enable the introduction of Individual Electoral Registration in 2014, reducing electoral fraud.
Crime and Courts Bill - Will establish a powerful new National Crime Agency to investigate and fight organised crime, improve immigration controls, and crack down on the trafficking of people, weapons and drugs.
Justice and Security Bill - Intends to extend civil justice in certain areas.
Draft Communications Data Bill - Will establish an updated framework for the retention and acquisition of communications data.
Small Donations Bill - Will boost the income of charities, especially smaller ones, by streamlining the Gift Aid scheme.