Deadline passes for SNP referendum consultation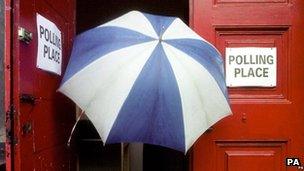 The Scottish government's consultation into a referendum on independence has attracted more than 21,000 responses, according to ministers.
The deadline for public submissions on the issue was midnight on Friday.
Scottish ministers used the occasion to confirm that the UK Electoral Commission will test the SNP government's proposed ballot paper.
The commission's work is expected to be carried out during the autumn and winter.
Confirming the Electoral Commission's role in the process, the Scottish government's Strategy Secretary, Bruce Crawford said: "The Electoral Commission has expertise in regulating referendums and elections - including successfully overseeing, for the first time, the recent local government elections in Scotland - and we have already announced that it will regulate and monitor the autumn 2014 independence referendum.
"As part of its role, the commission will also be asked to conduct the testing of the ballot paper.
"It will then be for the Scottish Parliament to decide the final question or questions - precisely in line with the arrangements for other referendums in the UK."
Speaking ahead of the final day of submissions to the public consultation, the Scottish Secretary Michael Moore called on the Scottish government to hold more talks with the UK government on the upcoming referendum.
The UK government's own consultation ended in March, attracting about 3,000 responses.
Mr Moore said he was confident an agreement could be reached.
He said: "The Scottish government will want some time to consider the responses it has received and that is of course right.
"But with both consultations now closed, and so many of the arguments well-aired and understood, I believe it is right that we resume our discussions in the next few weeks.
Mr Moore said that from meetings he had already had with Alex Salmond, he was confident the Scottish government supported a Section 30 Order, approved by the UK and Scottish Parliaments, to put the referendum on a "sound legal footing".
He also said both governments were clear there should be a single question asked in the referendum and the process should be overseen by the Electoral Commission.
He added: "With important matters, including the economy and job creation, high on the public agenda, Scots now expect their two governments to work positively and constructively to resolve the process issues on the referendum and move on to the great debate on Scotland's future and the vote itself.
"I look forward to sitting down soon with the first minister and finding a way forward."
Related Internet Links
The BBC is not responsible for the content of external sites.