Scottish minister calls for Arctic veterans medal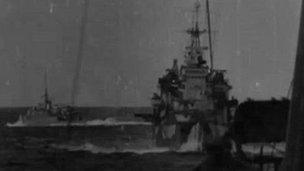 World War II veterans who served on Arctic convoys should be given a dedicated campaign medal, Scottish government minister Keith Brown said.
The transport and housing minister described the current situation as a "scandal".
More than 3,000 seamen died in Operation Dervish, which saw supplies delivered to the Soviet ports of Murmansk and Archangel.
The UK government is looking into calls for a special medal.
Mr Brown, a former marine who served in the Falklands, is meeting Arctic convoy survivors this week.
"Serving aboard the Arctic convoys must have demanded huge courage and dedication," he said.
"These men faced the dangers of u-boats and air attack in some of the worst weather conditions on the planet.
"Yet, through unwavering service to their country, these heroes ensured absolutely crucial supplies reached Russia.
"Without their efforts, Russia could easily have become cut off and the whole outcome of the war could have been different."
Mr Brown, said: "It is a scandal that these men have not been recognised with a campaign medal.
"A campaign medal is the least these heroes and their families deserve. I have written to the UK government on this issue in the past, now is the time for them to listen and act."
Prime Minister David Cameron has previously expressed support for the move and the issue has been referred to the Ministry of Defence, which is to conduct an independent review into the rules governing military medals.
In 2005 an Arctic badge was awarded to the veterans but they have said that does not go far enough.