Scottish independence: Academic predicts 'limited fiscal autonomy'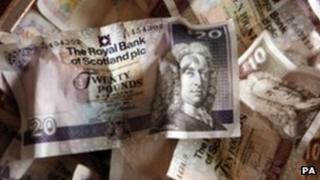 A leading academic has predicted that an independent Scotland would have ''limited fiscal independence''.
Prof David Bell of Stirling University made his remarks during an evidence session to peers.
The House of Lords Economic Affairs Committee is investigating the economic impact of independence.
The Scottish government had said it intends to hold a referendum in autumn 2014 on whether Scotland should become independent.
Mr Bell, who is a professor of economics, said he believed Scotland should keep the pound even if it decides to break away from the United Kingdom.
He also told the committee that because of the importance of financial services to Scotland the issue of financial regulation would have to be considered urgently.
London debate
Meanwhile, the Conservative peer Lord Fraser of Carmyllie has confirmed that he believed Scotland was "inevitably" heading towards independence.
The former lord advocate said that although in his view, independence was not desirable, there was an inevitability about it "in the fullness of time".
The former MP for Angus was speaking ahead of a Spectator debate in London on the same side as former Sun newspaper editor Kelvin MacKenzie and writer Gerry Hassan, who are arguing for Scotland to leave the union.
Lord Fraser told the Courier newspaper: "While I would like to see a continuation of the union, my resigned attitude now is that there is something of an inevitability about it.
"There was a time when you could travel from the Cromarty Firth to the Borders without leaving Conservative constituencies, now the champagne corks would be popping if we got as few as five (MPs).
"I'm not for independence but grown-up people have to recognise the practical politics in Scotland."
The SNP said Lord Fraser's comments, and his appearance at the debate arguing in favour of the motion that it was time to "let Scotland go", would cause embarrassment for the Scottish Tories' leader Ruth Davidson.
But a Scottish Conservative Party spokesman said that Scots Tories knew Scotland was "better off in Britain".
He added: "Even Lord Fraser himself is not convinced that the SNP will win the referendum on separation."