Scottish independence: Cameron 'not fussed' over referendum date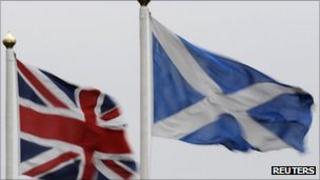 Prime Minister David Cameron has appeared to concede the date of a referendum on Scottish independence.
First Minister Alex Salmond has said he wants it to be held in the autumn of 2014.
Speaking at a reception at the Scotland Office in London, Mr Cameron said he was "not fussed" over the timing but wanted a "simple, fair, decisive and legal question".
His comments have been welcomed by the SNP.
Both the Scottish and UK governments have held consultations on an independence referendum.
Mr Salmond confirmed in January that autumn 2014 was the SNP government's preferred date for the poll.
UK ministers have argued that the referendum should be held "sooner rather than later".
At the Scottish Conservative party conference in March, Mr Cameron said he was keen to "get on" with the independence debate, and he urged the first minister to "stop dithering and start delivering".
The Scottish government's Secretary for Parliamentary Business Bruce Crawford said he was delighted by the prime minister's latest comments.
He added: "The terms and the timing of the referendum are matters to be decided in Scotland - not imposed by Westminster - and we are now proceeding with our referendum consultation being independently analysed."
The Scottish government's public consultation ended last week and ministers said it had attracted more than 21,000 responses.
The UK government has already published a summary of the responses to its independence consultation, which closed in March and drew about 3,000 responses.
Scottish Secretary Michael Moore said that three quarters of these backed having a single question, and that a "strong majority said that they want to have the referendum sooner rather than later".
First Minister Alex Salmond has expressed his preference for a single question in the referendum, as has the UK government and the other political parties.
However, the Scottish government referendum consultation has asked people for their views on a second question to deliver what has been dubbed "devo-max" or "devo-plus" to the Scottish Parliament.