Labour/SNP agree East Renfrewshire Council deal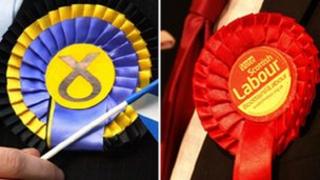 The Labour Party group on East Renfrewshire Council has entered into a coalition deal with the Scottish National Party.
At the council election on 3 May, Labour won eight seats and the SNP won four. The Lib Dems lost their only representative on the local authority.
The Tories are the second biggest party with six councillors, but they will play no part in the new administration.
Labour and the SNP have been working together on the council since 2007.
Following the deal, Labour group leader Councillor Jim Fletcher said: "We are continuing what we have been doing for the last five years. If you concentrate on what is relevant to local government, there is very little between us and the SNP.
"When we began working with each other in 2007, there was a natural mistrust - we were the first Labour and SNP groups to do this in Scotland and it was new and novel.
"We got over that mistrust and on a day-to-day level the way the two parties have worked has been very harmonious."
The coalition is now promising to:
deliver a new health centre for the Eastwood area of the authority
build on recent commitments to create a town centre regeneration fund
improve the roads network
provide additional spaces in the council's graduate internship programme.
SNP group leader Tony Buchanan said he was delighted his party and Labour had agreed to the "progressive coalition".
He added: "Our two manifestos had much in common and we are both keen to see our key policies implemented for the good of East Renfrewshire.
"The agreement builds on the last five years of working together informally.
"The SNP group are looking forward to the challenges ahead and we will work hard with our Labour colleagues to give the people of East Renfrewshire the progressive council that they deserve."