Scottish independence: Referendum consultation responses made public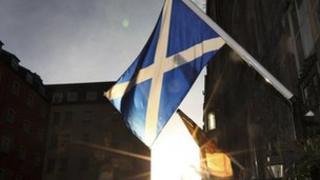 The UK government has published responses to its independence referendum consultation.
It closed in March and received nearly 3,000 replies from business leaders, academics, politicians, organisations and individuals.
Ministers said the responses showed strong levels of support for a single, clear question on independence.
Scottish Secretary Michael Moore has now called for talks with First Minister Alex Salmond to resume.
He said it was vital that the details of how and when the independence referendum would be held should be worked out as soon as possible.
The Scotland Office said the consultation responses showed strong levels of support for:
The UK and Scottish governments agreeing a section 30 Order to provide the Scottish Parliament with the power to hold a legal, fair and decisive referendum
A single, clear question on independence
Having the referendum sooner rather than later
The question being reviewed by the Electoral Commission
Using the Scottish Parliament franchise
Mr Moore said: "We will now seek to arrange further discussions with the Scottish government to agree the terms of an order to be approved by both parliaments to deliver a legal, fair and decisive referendum in line with the results of our consultation.
"It is vital that the terms of the referendum are agreed quickly so that we can all get on with the main debate about Scotland's place in the United Kingdom."
Regular discussions
However, the Scottish Secretary earlier stressed that the UK government did not anticipate the Scottish government's preferred date of autumn 2014 being a "barrier to an agreement".
Mr Moore added: "But we do need agreement on delivering a single question on the core issue of independence, which both governments support."
The Scottish government's public consultation ended last week and ministers said it had attracted more than 21,000 responses.
Holyrood's Parliamentary Business Minister Bruce Crawford said regular discussions were taking place with UK ministers.
He said: "We are now proceeding with our referendum consultation being independently analysed."
A Scottish government spokesman added: "We welcome the fact that Mr Moore has restated the position that the timing of any referendum should not be a barrier to agreeing a way forward, and the referendum shall take place in autumn 2014.
"In its submission, the Electoral Commission drew particular attention to the need to allow proper time to prepare for the referendum, and we agree.
"The Commission's positive comments on the Scottish government's proposed timetable are echoed by many others, such as the STUC."
Scottish Labour welcomed the responses to the UK government consultation.
Labour's Patricia Ferguson said: "These are important contributions and show very clear support for a fair, legal and decisive referendum.
"I echo the valid concerns expressed about the proposed wording of the referendum, and the strongly-held view that the Electoral Commission must rule on all aspects of the referendum."