Scottish independence: Row over Scottish shipbuilding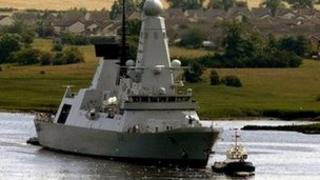 The SNP government has reacted angrily to claims from UK ministers and unions that an independent Scotland could struggle to maintain shipbuilding.
Downing Street and the Ministry of Defence said no British warship had been built in a foreign yard for more than 50 years.
But Holyrood ministers said Scotland's skills base would help ensure a healthy order book in the future.
The comments came amid a meeting of the Commons Scottish Affairs Committee.
The cross-party committee is holding an inquiry into independence ahead of a referendum planned for autumn 2014.
'Foreign country'
Duncan McPhee, a senior shop steward with Unite, based at BAE Systems in Scotstoun, Glasgow, told MPs on Wednesday that, without UK defence contracts, the shipbuilding industry in Scotland "would be greatly reduced, or in fact - finished".
A Downing Street spokesman, said: "The reality is that in 50 years, Britain hasn't built a warship outside the UK. That is a fact.
"Distinction has to be made between contracts already in the pipeline and those further down the line. Separation is not just for a five-year term."
An MoD spokeswoman added: "The shipbuilding unions met with the defence minister Peter Luff yesterday.
"We talked about the fact that we hadn't had a British warship built in a foreign country for the last 50 years, so we wouldn't necessarily start that in the future should Scotland become independent."
The Scottish government accused UK ministers of "scaremongering" over the future of Scottish shipbuilding.