South Ayrshire Tories agree partnership deal with Labour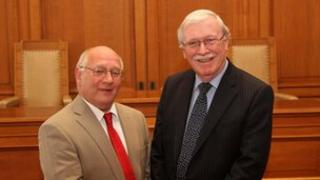 Ten Tory councillors on South Ayrshire Council have formed a minority administration following the local election at the start of May.
However, they have also agreed a partnership deal with the authority's nine Labour representatives.
The arrangement sees Tory Councillor Bill McIntosh resuming his position as council leader and Labour's Councillor John McDowall becomes his deputy.
The Scottish National Party secured nine seats at the election.
Councillor McIntosh said: "This is an historic partnership in South Ayrshire which will deliver the best outcomes for the people of South Ayrshire.
"Every council in the country faces significant challenges in the months and years ahead as the demand for services grows and budgets contract.
"Against that backdrop, we believe a Conservative-Labour partnership approach will ensure we can realise our ambitions for South Ayrshire's people, communities and businesses. 'Ne'er forget the people' is our motto and we will be putting people and communities at the heart of our work over the next five years."
Councillor McDowall agreed that the partnership deal was the best way forward for the council.
The Tories and Labour have said they intend to "work closely" with the two independent councillors, Alec Clark and Brian Connolly.