MSPs call for crackdown on late Scottish trains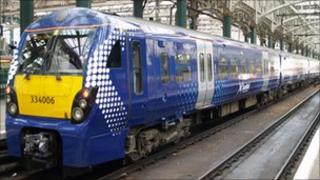 MSPs have called for a crackdown on late-running trains by bringing in tougher rules.
Services are currently allowed to arrive up to 10 minutes after stated times, before they are classed as late.
But this threshold should be cut to one minute, the Scottish Parliament's infrastructure committee has said.
The cross-party committee, which has been looking into the state of rail services, said the current rules were causing a headache for passengers.
Currently, local trains are described as on-time if they arrive at their destination within a five-minute threshold, increasing to 10 minutes for long-distance services.
In its report, the Holyrood committee said train operating companies already planned for "right-time scheduling", but added: "The committee considers these thresholds do not adequately reflect the difficulties and inconvenience caused to passengers who are on trains that arrive late but still within the relevant threshold.
"The committee, therefore, recommends the thresholds should be reduced, on a phased basis if necessary, so that a train will be considered on-time only if it arrives within a minute of its timetabled target."
The report came ahead of the expiry of the £1.5bn contract to run Scottish rail services, in mid-2014.
Franchise period
FirstGroup won the seven-year contract - one of the biggest awarded by Scottish ministers - in 2004, and was later extended for three years - a controversial move at the time.
The committee also concluded that:
The next franchise must ensure value for money is delivered, in line with the McNulty Report on rail services
There is a "strong case" for having a longer franchise period - a suggestion of 10 years with a three-year extension
Fare and ticketing structures need to be simpler
It was "not persuaded" Scotland's railway would represent better value for money if the franchise was split into multiple contracts.
MSPs also warned that, because of the way the rail industry is operated across the UK, the Scottish government was "limited" in the changes it could make.
Infrastructure committee convener and SNP MSP Maureen Watt said: "Underpinning all actions in relation to the future of Scotland's railway service must be the passenger - who cares little about how the franchise is run, as long as it delivers value for money, punctuality, frequent services and most importantly, a seat."
A Scottish government spokesman said: "The Scottish government is thoroughly committed to encouraging more people to use public transport and our record investment in the railways is evidence of this."
Scottish Labour called for a rethink of how the rail franchise is awarded.
Infrastructure spokesman Richard Baker said: "We should look at the possibility of new ways to run our rail services and not only consider private sector models."