Alex Salmond to visit California to build economic links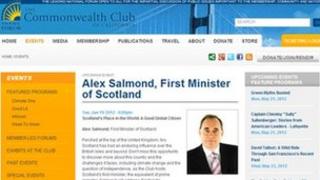 Alex Salmond is due to visit the United States next month.
The first minister is to travel to California to help build economic links and encourage inward investment.
One of his scheduled engagements is a speech to the Commonwealth Club , a forum for public affairs in San Francisco.
It is billed as including discussion of Scotland's constitutional future and its relationship with the US, as well as renewable energy and trade.