Lockerbie bomber: Public figures demand inquiry into conviction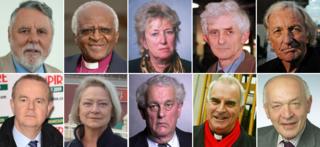 Religious leaders, politicians and journalists have signed a letter calling for an independent inquiry into the Lockerbie bomber's conviction.
The plea comes two days after Abdelbaset al-Megrahi, the only person convicted of blowing up Pan Am Flight 103, died of cancer.
Former war correspondent Kate Adie and peace prize winner Archbishop Desmond Tutu are among the signatories.
The Scottish government said it did not doubt the safety of the conviction.
However, it also insisted the issues being highlighted in the letter were ones which should be looked at by a court, rather than by politicians.
A spokesperson explained: "The issues now being raised relate to the conviction itself, and that must be a matter for a court of law. Mr Al-Megrahi was convicted in a court of law, his conviction was upheld on appeal, and that is the only appropriate place for his guilt or innocence to be determined."
In 2001 Megrahi was found guilty of committing the 1988 atrocity which saw 270 people killed over the south of Scotland town of Lockerbie.
The Libyan bomber was returned to his home country on compassionate grounds in August 2009 after serving 10 years in a Scottish jail.
He was suffering from prostate cancer and was released by Justice Secretary Kenny MacAskill when it was thought he had only a matter of months to live.
Megrahi, who died in Tripoli on Sunday morning, always protested his innocence.
The 42 signatories of a letter which appeared in the Scottish Review magazine claimed Scotland's criminal justice system had become a "mangled wreck" as a result of the Lockerbie conviction.
It called on the authorities to have the courage to examine the judgement, and claimed the prosecution case held water "like a sieve".
The letter read: "If Scotland wishes to see its criminal justice system reinstated to the position of respect that it once held rather than its languishing as the mangled wreck it has become because of this perverse judgement, it is imperative that its government acts by endorsing an independent inquiry into this entire affair.
"As a nation which aspires to independence, Scotland must have the courage to look itself in the mirror."
First Minister Alex Salmond said there was still a live investigation and that the Crown Office never believed Megrahi was the only person responsible for the bombing.
A Scottish government spokesperson added that it was made clear to Holyrood in February that it remained open for relatives of Megrahi or the relatives of the victims "to ask the SCCRC to refer the case to the Appeal Court again on a posthumous basis, which ministers would be entirely comfortable with".
Signatories of the letter
Kate Adie (former chief news correspondent, BBC News)
John Ashton (author of Megrahi: You are my Jury and co-author of Cover Up of Convenience)
David Benson (actor/author of the play Lockerbie: Unfinished Business)
Jean Berkley (mother of Alistair Berkley: victim of Pan Am 103)
Peter Biddulph (Lockerbie researcher)
Benedict Birnberg (retired senior partner of Birnberg Peirce & Partners)
Professor Robert Black QC ('architect' of the Kamp van Zeist trial)
Paul Bull (Close friend of Bill Cadman: killed on Pan Am 103)
Professor Noam Chomsky (human rights, social and political commentator)
Tam Dalyell (UK MP: 1962-2005; Father of the House: 2001-2005)
Ian Ferguson (co-author of Cover Up of Convenience)
Dr David Fieldhouse (police surgeon present at the Pan Am 103 crash site)
Robert Forrester (secretary, Justice for Megrahi)
Christine Grahame MSP (MSP)
Ian Hamilton QC (Advocate, author and former university rector)
Ian Hislop (editor of Private Eye)
Fr Pat Keegans (Lockerbie parish priest on 21 December 1988)
A L Kennedy (author)
Dr Morag Kerr (secretary-depute, Justice for Megrahi)
Andrew Killgore (former US Ambassador to Qatar)
Moses Kungu (Lockerbie councillor, 21 December 1988)
Adam Larson (editor and proprietor, The Lockerbie Divide)
Aonghas MacNeacail (poet and journalist)
Eddie McDaid (Lockerbie commentator)
Rik McHarg (communications hub coordinator: Lockerbie crash site)
Iain McKie (retired superintendent of police)
Marcello Mega (journalist covering the Lockerbie tragedy)
Heather Mills (author and journalist)
Revd John F Mosey (father of Helga Mosey: victim of Pan Am 103)
Len Murray (retired solicitor)
Cardinal Keith O'Brien (Roman Catholic archbishop of St Andrews and Edinburgh)
Denis Phipps (aviation security expert)
John Pilger (campaigning human rights journalist)
Steven Raeburn (editor of The Firm)
Tessa Ransford (poet)
James Robertson (novelist)
Kenneth Roy (editor, Scottish Review)
Dr David Stevenson (retired medical specialist and Lockerbie commentator)
Dr Jim Swire (father of Flora Swire: victim of Pan Am 103)
Sir Teddy Taylor (UK MP: 1964-2005; former shadow secretary of state for Scotland)
Archbishop Desmond Tutu (Nobel peace prize winner)
Terry Waite (former hostage and envoy to the Archbishop of Canterbury)