MSPs to increase Scottish Parliament sitting days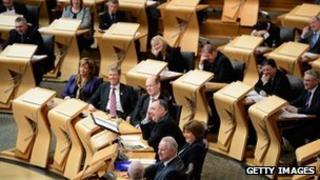 The number of days the Scottish Parliament sits each week is to be increased, amid concern the institution is not moving with the times.
Parliament will meet on three days, rather than two, under plans expected to be endorsed by MSPs.
The measure was brought forward as part of reforms spearheaded by Holyrood Presiding Officer Tricia Marwick.
They have been described as the biggest changes since the Scottish Parliament was created in 1999.
Ms Marwick said business in the Holyrood chamber needed more spontaneity, while there was a need to respond better to topical and breaking issues.
Parliament currently sits on Wednesday afternoons and all day on Thursdays, while committees meet all day on Tuesday, and Wednesday mornings.
Under the reforms put forward by Holyrood's procedures committee, MSPs would meet in the chamber on Tuesday, Wednesday and Thursday afternoons, with committees convening in the mornings on each of the three days.
Other reforms include:
A new "topical question time" session, allowing MSPs to grill ministers at short notice on major, emerging issues.
More time in the chamber for questioning ministers.
A cut in the length of time between the lodging of questions and those questions being asked in the chamber.
Increasing the number of backbench debates, from two to three a week.
Ms Marwick, said: "My aim in all of this is to develop the parliament as an institution.
"My ambition is for a parliament that is responsive to developments and meets the needs of the people of Scotland by ensuring topicality and relevance in its deliberations."
Next week MSPs are expected to endorse the reforms, which will come into force after the summer break.