Tycoon Maitland Mackie names turbines after ex-girlfriends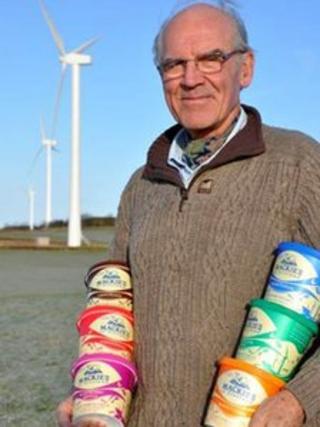 Ice cream tycoon Maitland Mackie has revealed that he named his company's wind turbines after his ex-girlfriends.
Dr Mackie said "Margaret, Mirabel and Matilda" had revolutionised his business, which was exporting green energy to the national grid.
The self-styled wind farm "guru" also branded US businessman Donald Trump "arrogant" over his opposition to turbines.
Dr Mackie was giving evidence to Holyrood's green energy inquiry.
The Scottish Parliament's economy, energy and tourism committee is conducting an inquiry into whether the Scottish government can meet its green energy targets.
Ministers want to see Scotland generating the equivalent of 100% of its own electricity demand from renewable resources by 2020.
Mackies, which makes ice cream and crisps, has three turbines at its base in Aberdeenshire. The company uses about 30% of the wind energy generated and exports the rest to the grid.
Asked by committee convener Murdo Fraser where the names of the turbines came from, Dr Mackie answered: "They're named after my three old girlfriends".
"I'm amazed there are only three," joked Mr Fraser.
Dr Mackie said a lack of cash for small wind farm developments was a major problem for the sector.
Tycoon names turbines after exes
He told MSPs: "The rural sector is full of small people who want to have a go, like Mackies' experience - it's the best investment I have ever seen my company do.
"They have 3.5 megawatts of wind power and it's revolutionised our local business - it's made our business hugely sustainable in the current scene."
He said this could be replicated 1,000 times across Scotland if the "smaller guys" could get access to the finance.
The businessman said such projects could make the rural sector "a hell of a heap of money", adding: "If we have 10,000, three megawatt instillations across Scotland, that would bring into the rural sector £4m annual net profit, instead of letting it all go to the big guys."
Dr Mackie also hit out at Mr Trump, who told the inquiry in April that wind farms would destroy Scotland's economy.
The US businessman is strongly opposing plans for an offshore development near his golf course in Aberdeenshire.
But Dr Mackie said there was too much negativity about wind power, and said Mr Trump was "the personification of arrogance and ignorance".
He added that wind power had a proven track record and could potentially save billions of barrels of oil or gas equivalent.