Scottish police officer numbers rise by 173 to 17,436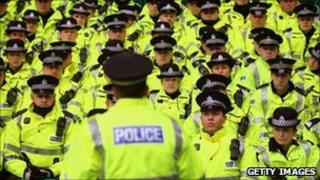 Police officer numbers in Scotland increased by 173 in the last 12 months, taking the total to 17,436.
Justice Secretary Kenny MacAskill welcomed the statistics which he said showed "the highest-ever number of police officers in our communities".
Officer numbers increased in most regions, with Strathclyde Police seeing a rise of 157 to 8,447.
Under plans announced by the Scottish government, a new national service will see the eight regional forces merged.
It said it was bringing in the Police and Fire Reform Bill to save cash without compromising frontline services.
The proposals, which are currently going through parliament, are backed by all the main parties, apart from the Liberal Democrats.
The current police officer numbers total includes 16,903 across the eight forces and around 530 on secondment to other bodies such as the Scottish Crime and Drug Enforcement Agency.
The figures - which appear in the quarterly strength statistics - are published as full-time equivalent positions which takes into account part-time staff covering the comparable workload of one full-time officer.
Mr MacAskill said: "I warmly welcome today's statistics showing the highest-ever number of police officers in our communities the length and breadth of Scotland.
"Crime is at a 35-year low. Fear of crime is down. The risk of being a victim of crime in Scotland is falling and is lower than in England and Wales. People are feeling safer in their communities, and these record police numbers prove that this Government is delivering on its commitments to protect police services and deter crime.
"The figures will obviously fluctuate slightly over time but we are protecting police officer posts and investing in our communities when in England and Wales officer numbers are predicted to decrease by 16,000.
"We are proud of our police and the excellent job they do. That's why our plans for a new Police Service of Scotland will ensure that frontline policing is protected and our communities kept safe."
Labour's justice spokesman Lewis Macdonald said the figures did not show the "full picture", citing drops in civilian support staff.
He said: "There is little point in maintaining police numbers, if police officers are not out on the beat protecting communities, but back behind desks doing the paper work that police staff would have been doing."