Willie Rennie chides John Swinney over Scottish Water 'bribe'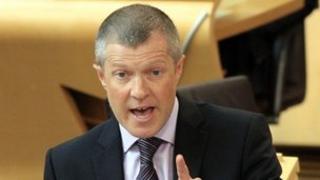 Scottish Liberal Democrats leader Willie Rennie has described the delay in Scottish Water reform as a government "independence bribe".
Rennie claims the public coffers could be boosted by £1.5bn if Scottish Water becomes a public benefit corporation.
The company would remain in public hands but could borrow from the open market instead of from public funds.
A Scottish government spokesperson said it too wanted Scottish Water to borrow on better terms - as a public company.
Mr Rennie is calling on Finance Secretary John Swinney to invest the £1.5bn windfall in boosting job opportunities across Scotland.
He argues that 100,000 new jobs could be created in broadband, science, technology and energy efficiency.
"Unlocking the money in Scottish Water to re-invest in job creating projects is a no-brainer," said the Liberal Democrats leader.
"We need this investment now but the SNP government seems content to sit on their hands and do nothing.
"There appears to be no longer any objection in principle to reforming Scottish Water by the SNP. People will ask one simple question, why wait?
"The suspicion is that the SNP want to hold this money in reserve as an independence bribe, putting party politics above national interest.
"I want Scotland to be able to invest this money now. [Chief Secretary to the Treasury] Danny Alexander is ready and willing to listen to any approach the SNP government makes.
"John Swinney should pick up the phone and work with the coalition government to deliver this investment for Scotland."
Rennie claims support from David Watt, chief executive of the Institute of Directors, who said: "We would be very much in favour of a change in the structure of Scottish Water to a public benefit corporation.
"We believe that under that model, Scottish Water could borrow on the open market."
The Scottish government said its policy was clear irrespective of the result of the referendum.
"Of course we want Scottish Water to have the ability to borrow so that we can boost infrastructure investment, and we are equally clear that it would remain a company in public ownership on that basis - both under devolution and with independence," said a spokesman.
"Scottish Water - in public ownership - has been a substantial success story in Scotland. It has managed its infrastructure well and frozen water charges for households for the last four years.
"Following independence, the Scottish Government would allow Scottish Water to issue bonds to the capital markets - and such bonds would be extremely attractive to a range of investors."
A spokesman for Finance Secretary, John Swinney, said: "The fact that a LibDem UK Treasury Minister could not substantiate this proposal by the LibDems in last year's election holed this policy below the waterline.
"Danny Alexander made it perfectly clear that the Treasury could simply claw the money back, leaving Scotland no better off, in return for going down the road of privatising Scottish Water.
"The Scottish government will continue to press the Treasury to secure additional powers and revenue to support investment in Scotland's capital infrastructure."
Scottish Water, headquartered in Dunfermline, provides services to about 5m customers in 2.4m households.