Charity claims majority of MSPs back same-sex marriage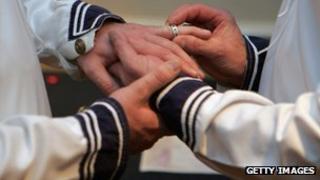 An equality charity claims that a majority of MSPs have committed to voting in favour of same-sex marriage.
The Equality Network said 69 out of 129 MSPs at Holyrood have signed a pledge to back a change in the law.
Meanwhile, Cardinal Keith O'Brien, the leader of Scotland's Catholic Church, has warned schools could be banned from promoting traditional marriage if gay marriage is made legal.
He said Scottish government assurances on the matter were "utterly hollow".
Key Scottish government ministers such as Alex Salmond, Nicola Sturgeon, John Swinney and Kenny MacAskill have indicated they will vote to give same-sex marriage equal legal status, according to the Equality Network.
The charity said the leaders of all the opposition parties, the majority of SNP and Labour MSPs, and all Liberal Democrat and Green MSPs will back a change in the law, too.
The Scottish government is due to publish the results of its same-sex marriage consultation this month.
If legislation is not forthcoming, the Equality Network has indicated that it will work to secure a Private Member's Bill.
Tom French, from the charity, said: "With a clear majority of MSPs committed to voting for equal marriage the Scottish government should now lead the way by introducing full marriage equality; both civil and religious."
Equality Act
The Catholic Church in Scotland will be an interested party when the government's consultation results are made public.
When the government launched its public consultation it stated it "tends towards the view" that same-sex marriage should be introduced but that faith groups and their celebrants should not be forced to solemnise the ceremonies.
But Aidan O'Neill QC has advised campaign group Scotland For Marriage that schools would be obliged not to favour traditional marriage over same-sex marriage in lessons.
Mr O'Neill said: "The way in which the curriculum is delivered by schools is covered by the anti-discrimination provisions of the Equality Act 2010 such that pupils should not be taught in a manner which may be thought to subject them to discrimination on the basis of sexual orientation.
"Scottish Ministers and local education authorities have obligation to have 'due regard' to the need to tackle prejudice and promote understanding in relation to matters of different sexual orientation.
"This duty applies regardless of whether marriage be opened to same-sex couples."
Cardinal Keith O'Brien said: "It is clear that Scotland's schools will be banned from promoting a traditional understanding of marriage if same-sex marriage becomes law.
"This means that the reassurances offered by the Scottish government that schools and churches will be protected have been utterly hollow.
"If they enact same-sex marriage legislation there is no question that the work of Catholic schools and parishes will be impaired, undermined and damaged."
If the government decides to legislate, there would be a further consultation on a draft Bill, and a finalised Bill could be introduced into the Scottish Parliament in 2013.
A Scottish Government spokesman said: "While we have expressed our initial view and with all of the opposition leaders at Holyrood supporting same-sex marriage, we have given an assurance that all opinions will be listened to, no final views have been reached, and therefore no decisions have been taken."