Scottish Enterprise boss takes extra post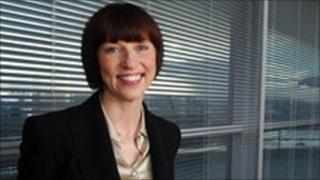 A decision to allow the boss of Scotland's economic development agency to take on an extra job has sparked calls for an investigation.
Lena Wilson, who makes about £200,000 a year as chief executive of Scottish Enterprise, is taking a position on the board of FTSE-100 firm Intertek.
The extra post pays £55,000 for 12 days' work.
Ministers welcomed the move, but the Liberal Democrats said the decision had to be looked into.
Scottish Lib Dem leader Willie Rennie, said: "I was under the impression that this Scottish government was against high pay in the public sector, yet now they are celebrating it.
"Many people would have to work three years to earn £55,000, yet Lena Wilson will earn that in 12 days.
"Does the chief executive of the government agency responsible for strengthening business and creating jobs not have enough to do that she has the time to take on extra work?"
Scottish Enterprise chairman Crawford Gillies said it was "unusual" for public sector leaders to take up private sector posts, adding: "While Lena will take on this role in a personal capacity, I firmly believe that it will benefit her as CEO of Scottish Enterprise."
A Scottish government spokesman, added: "This appointment is a strong indication from Intertek, a FTSE company, of Lena Wilson's talent and ability.
"This will add to Lena Wilson's considerable experience of working with successful businesses and enhance the work of Scottish Enterprise."
Ms Wilson, who is expected to work an extra day a month on top of her hours at Scottish Enterprise, takes up the non-executive position from 1 July.