Alex Salmond cleared over SNP donor claim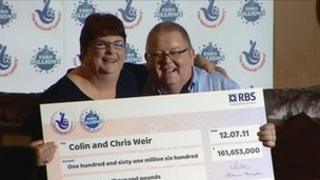 First Minister Alex Salmond has been cleared of a complaint that he broke the rules by meeting SNP donors at his official residence in Edinburgh.
He hosted Euromillions winners Chris and Colin Weir for tea at Bute House, days before they gave £1m to the party.
Labour said Mr Salmond breached the ministerial code, regarding the use of government resources for party political ends.
But an investigation has found the first minister acted within the rules.
Former lord advocate Dame Elish Angiolini, now an independent adviser on the ministerial code, said the rules allowed the hosting of personal or party events at Bute House, provided they are not funded by the taxpayer.
In her ruling, she stated: "Bute House is the designated official residence of the first minister. The visit to Bute House was of a personal/party nature.
"Any such visit is expressly permitted by the Scottish ministerial code provided no resources are used from the public purse.
"The tea and biscuits were provided from the first minister's private resources stored in his apartment at Bute House."
Mr Salmond hosted the Weirs in September 2011, shortly after they scooped the £161m jackpot.
Dame Angiolini said the nature of what the couple and Mr Salmond talked about during the meeting was not relevant under the code, but added that the first minister "indicated that there was no discussion about money or donations".
Mr Salmond said: "This will be the fifth complaint to be referred to the independent panel of advisers I introduced in 2008 to rule on these matters.
"I am delighted that each complaint has been dismissed and the advisers concluded my ministers and I have acted entirely properly."