Alex Salmond urged to meet Dalai Lama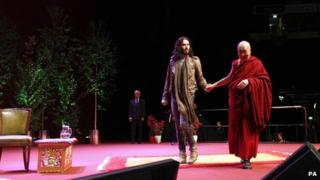 The first minister has been accused of pandering to "Chinese government diktat" by failing to meet with the Dalai Lama during his UK visit.
Scottish Liberal Democrat leader Willie Rennie said Alex Salmond should meet the Tibetan spiritual leader.
Mr Rennie challenged the first minister to "stand up for what's important" despite Chinese "sensitivities".
The Scottish government said no politicians had been invited to a reception being held in Edinburgh.
The Dalai Lama is on a 10-day visit to Britain and on Saturday shared a stage with comedian Russell Brand at the MEN Arena in Manchester, where he presented a youth compassion award.
He will follow that with visits to Edinburgh Usher Hall, Caird Hall in Dundee and the Eden Court Theatre in Inverness.
"This is a missed opportunity," said Mr Rennie.
"By failing to meet with the globally respected spiritual leader and Nobel Peace Prize Laureate, the first minister may leave the impression that he is more concerned with pandering to the diktat of the Chinese government than promoting human rights.
"We ignore China's human rights record at our peril. People from across Scotland have waited six years to meet with His Holiness.
"The cities of Dundee, Edinburgh and Inverness have all noted their enthusiasm towards welcoming him into their streets and town halls.
"Either Mr Salmond has completely misjudged the importance of this event, or he has shown once more that he is too afraid of rocking the boat."
The Scottish government was criticised in some quarters as Mr Salmond visited China in December to strengthen trade, arts and cultural links after the arrival of two giant pandas on loan to Edinburgh Zoo.
Mr Salmond said he would be raising the issue of China's human rights record with political leaders as part of his trade mission to Beijing.
Faith communities
A Scottish government spokesman stressed that Mr Salmond was visiting the US this week and returns to chair the British Irish Council on Friday.
"The first minister has only received one invitation and that was to be part of the audience when the Dalai Lama received an award in London on 14 May - when the first minister was in Norway on official business," said a statement.
"Next week, the Dalai Lama is in Scotland on a pastoral visit as a religious leader.
"He is being properly recognised at a meeting hosted by the presiding officer in Queensberry House on behalf of the faith communities on a non-political basis.
"This is an appropriate and respectful way to receive an international religious figure.
"These arrangements are a matter for the presiding officer, not government - and, given the nature of the event, our understanding is that no party politicians have been invited."