Audience plea for Scottish referendum debate programme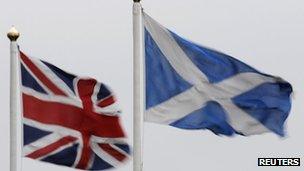 BBC Scotland is appealing for members of the public to join an audience for the latest in a series of debates on the future of Scotland.
The television special will take place on Friday, 29 June.
Both the Scottish and UK governments have held consultations into the issues surrounding a referendum on Scottish independence.
SNP leader and First Minister Alex Salmond has named autumn 2014 as his preferred date to hold the vote.
The venue for the debate, featuring a panel of politicians and being hosted by political editor Brian Taylor, will be BBC Scotland's Glasgow headquarters at Pacific Quay.
The programme will be broadcast at 19:00 on Friday on BBC One Scotland.
If you are interested in joining the audience, fill in the form below.
People wishing to take part will need to be available from 13:00 and for the rest of Friday afternoon.
Guidelines require the BBC to have a balanced audience for this event.
To help us do this, we will ask all members of the audience whether they are associated with a political party or if they already have a favoured view on whether Scotland should become independent or remain part of the UK.