Ex-Scotsman editor John McLellan joins Scottish Tories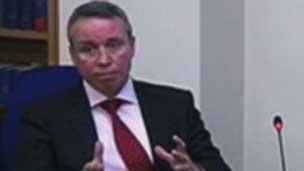 Former Scotsman editor John McLellan has joined the Scottish Conservatives as their new communications director.
Johnston Press, owner of The Scotsman, the Evening News and Scotland on Sunday, axed Mr McLellan's role as editor-in-chief in April.
The 50-year-old had worked on the newspapers for 19 years.
In his new post, Mr McLellan will advise Scottish party leader Ruth Davidson on "communications strategy, direction and content".
He said Ms Davidson was doing a tremendous job in "reshaping perceptions of Scottish Conservatism".
He added: "It is no secret I strongly believe Scotland has benefited and will continue to benefit from being a strong part of the United Kingdom and I very much look forward to working with Ruth on developing the Scottish Conservative message at such a crucial time.
"A strong, modern Scottish Conservative voice with the values of hard work, just reward, personal responsibility and choice at its core has never been so badly needed as the SNP and Labour slug it out on the left."
Ms Davidson said: "I am delighted to welcome someone of John's experience and standing to the team.
"The Scottish Conservatives are changing and putting forward a bold vision of a centre-right Scotland.
"John's role will be a vital part of communicating that vision and I am looking forward to working closely with him in delivering the change I want to see in our party and our country."
Former Tory spin doctor Ramsay Jones was suspended from his post during the party's leadership elections at the end of last year.
It followed newspaper claims that he attended a meeting held by Ms Davidson - who was one of the candidates for the leadership.
Related Internet Links
The BBC is not responsible for the content of external sites.