Scots prisoner numbers hit record high despite fall in crime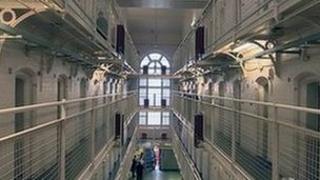 Prisoner numbers in Scotland have hit a record high despite crime being at its lowest level since 1975, according to the latest official figures.
The annual daily average prison population has risen to 8,178 , and it has been estimated the number will increase to 9,500 over the next decade.
Since 2007 the Scottish government has pursued a policy of increasing non-custodial sentences to cut reoffending.
Justice Secretary Kenny MacAskill said action was being taken on the issue.
He said: "Crime is going down in this country and is now at its lowest level since 1975, yet the number of prisoners has increased by two thirds over the past two decades.
"These figures confirm what we already know - that without action the prison population will continue to grow."
Mr MacAskill added: "We are clear that prison remains the only place for locking up serious and dangerous criminals and keeping them off our streets, but we can't keep packing more and more low level offenders into our jails and giving them free bed and board.
"Community sentences are proven to be more effective than prison at reducing reoffending."
The latest prisoner figures showed:
Overall numbers increased by 4% to an annual daily average of 8,178
Numbers projected to rise to an annual average of 9,500 by 2020-21.
Young offenders dropped by 8%
The number of remand prisoners rose 11%
The female prison population increased by 8%
Mr MacAskill said non-custodial community payback orders had been brought in, while a record level of cash was being put into prison buildings.
Scottish Liberal Democrat justice spokeswoman Alison McInnes said the Scottish government should look to address prison overcrowding through the increased use of community payback orders for low level offenders.
She added: "Local communities benefit more when low level and short sentence prisoners are given community payback orders rather than prison sentences. They are less likely to reoffend and can instead contribute to the society impacted by their crimes."
John Lamont of the Scottish Tories said: "We cannot get to a situation whereby we have no more room for prisoners, and the SNP must urgently invest in our prison system to make sure that we have the capacity in Scotland to incarcerate those handed jail sentences."
And Scottish Labour justice spokesman Lewis Macdonald said: "Recent prison inspections show that prisoners aren't getting access to education and skills training that are essential for stopping them re-offending and stopping the revolving door in our prisons.
"Unless the SNP sort out what is happening in our prisons, we will continue to imprison more people who, when released, simply go out and commit more crime. We can't go on like this."