Ministers move to end corroboration in Scottish criminal law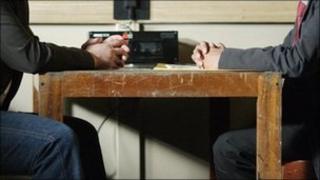 The Scottish government has begun moves to abolish corroboration - one of the most fundamental rules of Scottish criminal law.
Justice Secretary Kenny MacAskill said he would try to find the "best way" to achieve its abolition after he accepted Lord Carloway's review of Scots law.
Currently, all key evidence presented in a criminal prosecution has to be backed by two sources.
But Lord Carloway said in his report that corroboration was now "archaic".
He believed there should be an improved system based on "quality of evidence" rather than "quantity of evidence".
The government will now conduct a three-month consultation on how to implement the Carloway recommendations.
Mr MacAskill said some of the proposals, including the removal of the requirement for corroboration, were "monumental" and would "overhaul many years of legal practice".
He added that there may be more prosecutions in serious cases and there may be a need for weekend courts.
Mr MacAskill said: "Lord Carloway's report provides a clear and coherent package of reforms to modernise the Scottish criminal justice system, which I believe will resonate well into the future in the same way as the Thomson Committee's work of the 1970s still resonates today."
The judge was asked to look at Scotland's legal system following the UK Supreme Court's Cadder ruling which said police in Scotland could no longer question suspects without allowing access to a lawyer.
The recommendations of the the Carloway Report, which was published in November last year, included:
The right to legal advice when taken into custody
Limited period of arrest of 12 hours before charge is made
Particular protection and rights for children and vulnerable adults
Greater flexibility for police in conducting investigations while ensuring fairness for suspects
Less restrictive rules around evidence and a removal of the need for corroboration
Adjustments to the relationship between the Scottish Criminal Cases Review Commission (SCCRC) and the High Court
On the issue of corroboration, Mr MacAskill said: "The consultation paper agrees that the requirement should be abolished.
"It reflects that the rationale for the rule stems from another age, that its usage has become confused and that it can bar prosecutions that would in any other legal system seem entirely appropriate.
"The focus of our consultation is on deciding how to best achieve abolition and what, if any, additional measures require to be taken as a consequence."
The Law Society of Scotland has reiterated its concerns about plans to remove corroboration.
While welcoming the government's consultation on the Carloway review, the professional body said corroboration should not be considered in isolation.
Bill McVicar, convener of the society's criminal law committee, said: "We have grave concerns about the proposal to abolish the requirement for corroboration when there have been no corresponding proposals for safeguards to prevent potential miscarriages of justice.
"Corroboration has been a cornerstone of the Scottish criminal justice system since time immemorial and before such a radical step is taken, there would have to be an overwhelming case for change. In our opinion such a case for change has not been made."