Scottish independence: Experts to compose single question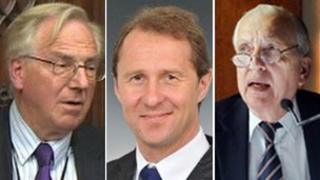 A panel of experts has been appointed by the pro-union parties in Scotland to compose a single question for the referendum on independence.
The group includes academics Dr Matt Qvortrup and Lord Sutherland, along with elections expert Ron Gould.
They will draw up a question which will be submitted for testing to the Electoral Commission on behalf of Labour, the Tories and the Lib Dems.
The Scottish government wants to hold the referendum in autumn 2014.
The pro-independence SNP had said it wanted a straight yes or no question, but it was open minded on whether a second, so-called "devo max" question, on more devolved powers to Holyrood should be posed.
Nationalist leader and Scotland's First Minister Alex Salmond has already put on record that he intends to ask the country's electorate: "Do you agree that Scotland should be an independent country?"
He also said that the Electoral Commission would test and scrutinise the final question.
The pro-unionist appointed panel will be chaired by Lord Sutherland of Houndwood, a former principal of Edinburgh University who chaired the Royal Commission on long-term care for older people, which laid the foundation for free elderly care in Scotland.
Prof Qvortrup is a referendum expert who is currently senior lecturer of comparative politics at Cranfield University's Centre for International Security and Resilience.
Mr Gould is the former assistant chief electoral officer of Canada who has participated in more than 80 elections in 50 countries.
The panel will meet in the next few weeks with the aim of presenting a proposed question to the commission in the autumn.
Lord Sutherland said: "The most important political question for over three centuries which now faces the Scottish people, concerns our constitutional relationship with other parts of the United Kingdom.
"A referendum which proposes such a choice requires a clear, understandable, and unbiased question.
"To produce and vote upon such a question is the ultimate test of a mature democracy. For this to be done and seen to be done, it is essential to seek the help of the Electoral Commission. I enter this arena with a sense of humility and openness of mind."
Mr Salmond announced last week that constitutional expert Prof Stephen Tierney would be advising him on how to ensure the referendum meets international standards.
The director of the Edinburgh Centre for Constitutional Law at Edinburgh University said he would "provide independent, objective and publicly-available advice on international best practice in the conduct of referendums".
Labour, the Tories and Lib Dems have invited Prof Tierney to join their group of experts.