Scottish police job with £208,000-a-year salary is advertised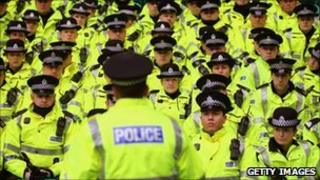 The £208,000-a-year job to lead Scotland's new national police force has been advertised.
The eight regional police forces are being merged into one, under a government drive to save cash without hitting front line operations.
The new chief constable will take charge of what will be the second largest force in the UK, with more than 17,000 officers.
The force is due to be up-and-running from April next year.
Scottish ministers want to see the new chief constable appointed in October.
The starting salary for the post is £208,100 - with no bonus - and the deadline for applications is 16 August.
Strathclyde Chief Constable Stephen House is seen as a front runner for the new top police job - although Grampian chief Colin McKerracher, who previously outlined concerns about a national force, has expressed an interest in the post.
The successful candidate will be appointed through a recruitment panel, headed by the chair of the Scottish Police Authority and featuring senior public figures.
Justice Secretary Kenny MacAskill has said there would be no compulsory redundancies as a result of the reforms, which will provide employment for about 6,500 support staff.
Trade union chiefs believe about 3,000 posts could go.
Mr MacAskill said of the job: "The role will be one of the most demanding and high profile policing posts in the UK, leading engagement with the public, private and voluntary sectors across Scotland, the UK and internationally.
"The new chief constable will be a role model for the values of the police service, providing inspirational leadership, determining the future shape of policing as part of an ambitious programme of public service reform across Scotland."
Scottish Liberal Democrat leader Willie Rennie, whose party opposed the merger, said: "Many will find the eye-watering £208,000 salary difficult to stomach - the SNP government like to think it is against high public sector pay, but time and time again we see instances like this.
"But this isn't the only cost - eight locally accountable, locally visible Chief Constables are being replaced by one.
"I don't understand how the SNP feel they can justify this reduction in service as value for money."
The Scottish Crime and Drug Enforcement Agency and Scottish Police Services Authority will also come under the umbrella of the new national force, which ministers said would save £1.4bn over 15 years.
The new operation, to be based at the Scottish Police College in Tulliallan, in Fife, replaces the current structure of eight chief constables, nine deputy chief constables and 13 assistant chief constables, which cost £3.5m a year.
Opposition politicians have questioned whether the mergers will deliver the projected savings.
Scotland's regional fire and rescue services are also being merged into one operation, to be headed by a single fire chief.