Scottish cabinet to meet in Skye as part of its fifth summer tour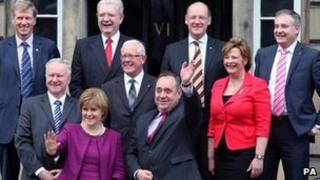 Members of the Scottish cabinet have taken their discussions outside Edinburgh during the Holyrood recess for the fifth consecutive summer.
The politicians are in Skye for the first of their summer meetings.
First Minister Alex Salmond and his team will spend two days on the island, where there will be a public Q&A after the formal cabinet meeting in Portree.
As well as visiting Skye, the Scottish Cabinet will also meet in Orkney and Renfrew next month.
They will take part in public meetings in each of the three locations, with people able to question them on any aspect of the Scottish government's work.
More than 4,000 people have taken part in such events over the last four years, when the cabinet has visited places like Inverness, Pitlochry, the Isle of Bute, Stirling and Stranraer.
The Holyrood cabinet have a packed diary for the two-day visit, including a visit by Mr Salmond and Education Secretary Mike Russell to the Gaelic college Sabhal Mor Ostaig.
'Buttonhole' ministers
They are expected to announce funding for the college to preserve and make available online several thousand hours of Gaelic and Scots recordings.
On Monday evening, the First Minister will host an evening reception, celebrating the Year of Creative Scotland 2012, featuring performances from local youngsters.
The formal cabinet meeting will be held on Tuesday, followed by the public question and answer session hosted by the first minister.
Mr Salmond said he was looking forward to hearing the views of local people, along with senior ministers.
"The chance to 'buttonhole' ministers is, unsurprisingly, something that's been enthusiastically and positively embraced by people in all the communities we've visited in previous years," he said.
"In this part of the country in particular our culture goes hand in hand with economic sustainability.
"Culture is a top priority for this government and one of the main elements of the cabinet's programme will be a reception to highlight what Scotland has to offer culturally."