Scottish independence: SCVO hits back in Willie Rennie row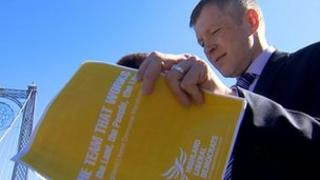 A charities organisation has claimed Scottish Liberal Democrat leader Willie Rennie is "unworthy" of his position in a row over the independence referendum.
Mr Rennie had called for the chief executive of the Scottish Council for Voluntary Organisations to resign for "working closely with the SNP".
But in a strongly-worded response, the SCVO branded Mr Rennie's comments "preposterous".
And it warned against "outsiders" interfering in its affairs.
Mr Rennie had claimed SCVO chief executive Martin Sime was secretly working with the Scottish government on a "more powers" choice in the referendum, due to be held in late 2014.
But a response sent to the Scottish Lib Dem leader by Dr Alison Elliot, convener of the SCVO, stated: "I consider your allegations preposterous, your interpretation of the incidents fanciful and your attempt to interfere in the business of an independent organisation unworthy of a public leader.
"I have no intention of asking Martin to resign. It can be argued that, were it not for the efforts of civil society, through the Constitutional Convention, there would not be a Scottish Parliament for you to be an MSP in.
"That was of its time but civil society always has a role in a healthy democracy."
Dr Elliot said special advisers from all the main political parties, including the Lib Dems, had been involved in dialogue with the SCVO in recent months.
She added: "We are quite clear about the grounds on which we base our arguments; they are formed by the work and concerns of our members, not by any party political stance.
"SCVO is not a front for anyone, nor will it be told by outsiders what it will or will not debate, or how it should conduct its business."
The row was sparked after an email sent from one of the first minister's policy advisors to Mr Sime was apparently leaked.
The email, introduced with the words "read this", outlined support for a second question on the so-called devo max option.
'Raw nerve'
First Minister Alex Salmond has said the door is open to a second question on more powers for Holyrood on top of the question on independence if there is wide enough support in civic Scotland.
Following reports of the email, Mr Rennie claimed Mr Sime was "threatening the independence and credibility of the SCVO".
He added: "I have suspected for some time that he was working closely with the SNP government on the referendum but now we have hard evidence.
"I have written to the SCVO convener Dr Alison Elliot to ask that Mr Sime consider his position."
Mr Rennie went on to claim Mr Sime had tried to undermine the launch of the pro-Union Better Together campaign, and alleged Mr Sime was allowing the SNP administration to use the SCVO as a "front organisation" for a second question in the referendum.
Responding to Dr Elliot's letter, Mr Rennie said: "I've clearly touched a raw nerve."