Scottish independence: Lord Wallace leads constitutional forum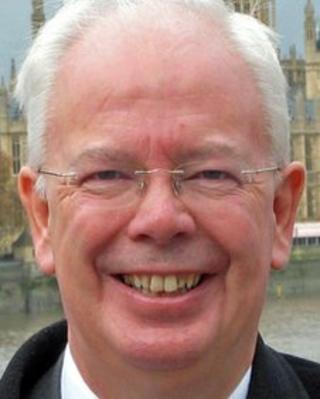 Westminster's senior adviser on Scots law has chaired a forum of experts looking at the constitutional issues raised by the independence debate.
Advocate General Lord Wallace said the SNP had made "assertions" about how it would retain EU membership, sterling currency and UK banking regulations.
He said it was time for "some assertions" to be examined by experts.
However, the Scottish government said there was a lack of credibility to the pro-unionist approach.
Meanwhile, ministers have begun a legal challenge after being ordered to reveal whether they hold legal advice on the status of an independent Scotland within the EU.
Freedom of Information Commissioner Rosemary Agnew ruled last month that the release of the information was in the public interest, following a request by Labour MEP Catherine Stihler.
The deadline was on Tuesday, but the Scottish government has confirmed that grounds for appeal have been lodged with the Court of Session.
Ahead of the gathering, Lord Wallace, a Lib Dem peer, called for an "evidence-based approach".
The former leader of the Scottish Liberal Democrats and former Deputy First Minister was joined in Edinburgh by legal professors, senior practising lawyers and other experts.
Lord Wallace said: "The advantages to Scotland of our existing constitutional arrangements are often taken for granted.
"It will be very helpful for this forum of independent legal experts to examine the current situation and highlight the issues that Scotland would need to address if people were to vote for an independent Scotland.
"The people of Scotland need to know what the implications of independence would be for Scotland."
The Scotland Office said independence for Scotland would mean leaving the UK and becoming an entirely new state.
Lord Wallace added: "The current Scottish government paint a picture of a separate Scotland that retains EU membership, retains sterling as our currency, retains UK banking regulations and gains a seat on the Bank of England Monetary Policy Committee.
"So far they have provided no credible explanation as to how they would achieve these ambitions, which at best depend on political negotiation with other states and international organisations."
However, a spokesman for MSP Bruce Crawford, who is Cabinet Secretary for Parliamentary Business and Government Strategy, said: "Lord Wallace seems to already know what his 'independent experts' are to say, which weakens the credibility of this behind-closed-doors gathering.
"We look forward to hearing from the Advocate General on his preferred policy of further devolution - however, independence brings with it continued membership of the European Union, as a wide range of expert opinion has confirmed.
"And the cast-iron position is that an independent Scotland will keep the pound, as indeed Lord Wallace's colleague Michael Moore has confirmed.
"The people of Scotland need to know what the Tory-led anti-independence parties are offering instead of independence, and if they continue to offer nothing, it will only persuade more people to vote yes to an independent Scotland."