Scottish independence: Salmond outlines broadcast vision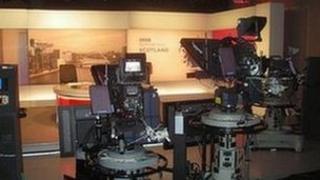 An independent Scotland should have its own public service broadcaster based on the existing staff and assets of BBC Scotland, the first minister has said.
Alex Salmond told the Edinburgh International Television Festival the strategy should be "utterly clear and utterly unsurprising".
He said Scottish viewers were being failed by "out-dated" broadcasting policy, reserved to Westminster.
The Scottish government is planning an independence referendum in autumn 2014.
Opposition parties said the first minister's plan to "break up the BBC" was lacking in evidence and detail.
Meanwhile, across the capital, former Labour prime minister Gordon Brown also raised the issue of independence during a speech.
At the politics festival at Holyrood he said it would threaten UK-wide protections, such as unemployment benefit.
In a speech at the television festival, Mr Salmond argued the independence of broadcasters in an independent Scotland would be guaranteed and their impartiality required.
He also argued a separate Scottish broadcaster, added to fiscal incentives, would mean more programme-making, while the needs of local communities would also be met.
The first minister said: "Scotland's contribution to broadcasting is unparalleled. Television was invented by John Logie Baird and the very concept of public service broadcasting was shaped by Lord Reith.
"But Scottish viewers and TV production talent are today being short-changed."
'Wider vision'
Mr Salmond argued broadcasting legislation remained "substantially unaltered" since it was put in place more than 50 years ago," adding: "In an age of digital revolution, broadcasting policy has not even adapted to devolution."
He said: "Television forms part of our wider vision for an independent Scotland to be a fairer and more prosperous nation.
"A stronger broadcasting sector provides major economic benefits - in 2009, Ireland was home to more than double the value of independent TV production than Scotland.
"Only then will broadcasting truly be Scotland's window on the world - bringing us the best of international content and allowing us to show the world what Scotland can create."
In 2008, a broadcasting commission set up by the Scottish government said up to £75m of public money should be spent on a new, high-quality Scottish TV channel.
The body was led by Blair Jenkins, a former BBC Scotland head of news, who is now running the official pro-independence campaign, ahead of the referendum.
Industry jobs
Shadow Scottish Secretary Margaret Curran said: "Alex Salmond told us that he's going to break up the BBC with no details about how he would do it or what it means for Scottish viewers or the people whose jobs rely on our TV industry.
"On Thursday night, millions of people tuned in to see the first episode of Waterloo Road, filmed in Greenock, broadcast across the UK.
"The question the first minister needs to answer isn't whether Eastenders will be available in an independent Scotland - it's whether programmes like this will be made in Scotland, bringing jobs and growth to our economy."
Jackson Carlaw, the deputy Scottish Conservative leader, added: "This is another nonsensical outburst about how everything will be better in a separate Scotland - the only things missing, as usual, are the evidence and the detail.
"It will take more than a handful of historic references to convince the people of Scotland of yet another spurious claim."
Delivering the inaugural Campbell Christie memorial lecture at Holyrood's Festival of Politics, Gordon Brown portrayed the union as an insurance policy that protected people in all parts of the UK.
He said: "There is equal right to unemployment benefit, there is an equal right to health insurance, there is an equal right to help when you're sick and disabled, there is an equal right also that if one part of the country has an economy that is failing the other part of the country has a duty to help."
Mr Brown also used his speech to urge one of Britain's most famous golf clubs to end the "injustice" of not allowing women to be members.
He criticised the "inequality" of the Royal and Ancient Golf Club in St Andrews following a decision by Augusta National Golf Club in the US to admit women members.