John Swinney says 'no way' to Scottish Water privatisation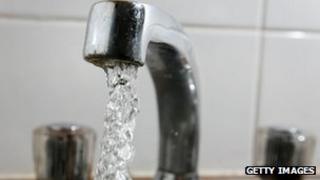 There is "no way" Scottish Water will be privatised by the Holyrood government, Finance Secretary John Swinney has said.
He made his pledge after the director of CBI Scotland, Iain MacMillan, called for the organisation to be sold off.
The business chief believed Scotland should mirror England and have water run by private enterprise.
However, Mr Swinney said the body would not be privatised because it contributed directly to the economy.
He told BBC Radio Scotland's Good Morning Scotland programme: "There is no way the government will privatise Scottish Water.
"I think that is essentially the general and settled view of the people in Scotland that they want their water industry, which of course is an enormous economic asset to Scotland.
"There is a very direct economic impact by having a clear and appropriate governance framework in place that keeps Scottish Water in the public sector, delivering for the people of Scotland."
Mr Swinney is due to set out his draft budget for 2013/14 next month, after which the Budget Bill will begin its passage through Holyrood.
Business lobbying organisation CBI Scotland has called on the government to continue with public sector pay restraint and provide more investment in infrastructure such as roads and housing.
The organisation also supports the privatisation of Scottish Water because the government does not receive any Barnett consequentials by keeping it in public ownership.
Modest increase
Mr McMillan, speaking on BBC Radio Scotland, said: "That industry is privatised south of the border, so through deliberate policy choices the Scottish government is having to spend money that they would not otherwise have to spend."
Mr Swinney said he remained hopeful the government could move into "a period of modest pay increases" in the public sector for 2013/14, having had two years of pay restraint.
He added: "I'm working to deliver that because I think you have to strike a balance in many of these decisions between the exercise of restraint and actually recognising the difficulties that families are facing because of that self-same restraint."