MSPs warned by presiding officer over bad behaviour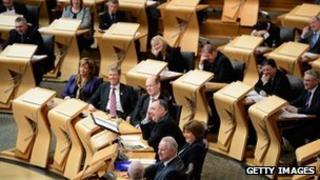 The presiding officer of the Scottish Parliament has written to MSPs warning them against bad behaviour in the Holyrood chamber.
Tricia Marwick has urged members to "conduct themselves in a courteous and respectful manner".
Her letter was sent ahead of the new term which will see the parliament sit on three as opposed to two days a week.
The change was made to allow MSPs to quiz ministers on "topical issues" and for Holyrood to be more responsive.
Up until this new session, parliament sat on Wednesday afternoons and all day on Thursdays, while committees met all day on Tuesday, and Wednesday mornings.
Mrs Marwick explained: "The new pattern to the week will now provide the specific opportunity, at the start of each chamber session, for MSPs to question ministers on topical issues.
"I hope this will enable our parliament to be more responsive and agile in responding to the major issues of the day and holding the government to account."
Under the reforms which were put forward by Holyrood's procedures committee, MSPs will now meet in the chamber on Tuesday, Wednesday and Thursday afternoons, with committees convening in the mornings on each of the three days.
Ms Marwick said that after more than 12 years into devolution, it was crucial that the culture and working practices of the parliament evolved and kept pace with new developments.
Other reforms which kick in from Tuesday onwards include:
A new "topical question time" session, allowing MSPs to grill ministers at short notice on major, emerging issues.
More time in the chamber for questioning ministers.
A cut in the length of time between the lodging of questions and those questions being asked in the chamber.
Increasing the number of backbench debates, from two to three a week.
As well as giving details of the new parliamentary timetable, Ms Marwick has reissued the rules on protocol.
The presiding officer wrote in her letter to MSPs that she would give "a certain amount of latitude" in the interests of encouraging debate and avoiding excessive formality.
However, she added: "That does not mean that we condone behaviour that prevents other members or the visiting public from following a debate."
On the attendance of debates, Ms Marwick added: "As a courtesy to your fellow members, if you wish to participate in a debate, you should attend the whole debate but, as a minimum, members should be present during the opening and closing speeches and should remain in the chamber to hear the two speeches following their contribution.
"It is particularly important that closing speakers are able to reflect upon all of the contributions made during a debate."
Some MSPs have been reprimanded in the past for missing, or turning up late to, parliamentary business.
In the last parliamentary session, backbench MSP Joan McAlpine had to apologise after she failed to turn up in the chamber during her ministerial questions slot.