Scots Finance Secretary John Swinney promises a budget for jobs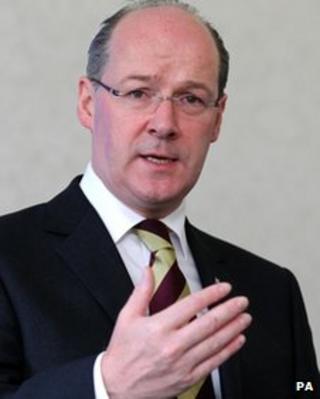 Scotland's Finance Secretary John Swinney has pledged that next week's budget will be one focused on boosting the economy.
He said he was "actively exploring" what the government could do to create jobs and grow the construction sector.
Mr Swinney made his promise as the latest Government Economic Strategy (GES) report was published.
The SNP minister said the document demonstrated that the government was continuing to deliver its priorities.
Mr Swinney said: "Next week's budget will build on the foundations for long-term economic prosperity that we set out in 2007 and focuses our actions on six strategic priorities which will accelerate recovery, drive sustainable growth and develop a more resilient and adaptable economy.
"Retaining Scotland's position as the most supportive environment for business in the UK is essential in ensuring that our ambitious, innovative companies can thrive and capitalise on opportunities in new international growth markets."
The six priority areas set out are;
capital investment
digital infrastructure
addressing youth unemployment
procurement
renewables
and support for business.
The economic strategy report said that economic conditions remained challenging and that uncertainty in the eurozone had acted as "a drag on confidence".
It added that Scotland had not been immune to those pressures and the recovery "which began in 2009 remains fragile".
Against that backdrop, the report said the government's immediate priorities continued to be boosting public sector capital investment; tackling unemployment and encouraging private sector investment.
'Could do more'
Ahead of outlining the details of his 2012/13 budget, Mr Swinney said: "Our actions to boost growth include a tax relief package worth over £500m this year and bringing forward a further £105m package of economic stimulus.
"We are doing all we can within our current powers to strengthen the economy but there is no doubt that with the full fiscal and economic powers of independence, the Scottish government could do even more to strengthen our economy.
"More and more successful business leaders and wealth creators recognise that through independence, we can best determine and create the best possible environment for economic success and deliver a more prosperous and fairer Scotland."
Scottish Conservative housing spokesman Alex Johnstone said he hoped Mr Swinney meant what he said about boosting construction.
Mr Johnstone added: "But if this boost is simply based on large public works, that alone will not bring the step-change the industry requires.
"What we do need is private housebuilders constructing homes again and our key industries investing for the future in developing their properties and facilities.
"That will only come from a Scottish government that offers real confidence in the long-term, and doesn't simply depend on big public contracts."