Lib Dem's Danny Alexander to lead Trident nuclear review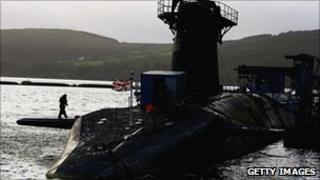 Chief Secretary to the Treasury Danny Alexander has been put in charge of the government review of alternatives to the Trident nuclear missile system.
Liberal Democrat leader Nick Clegg announced the move at the party's autumn conference in Brighton.
Fears had been voiced about the future of the review after the only Lib Dem minister in the Ministry of Defence was sacked in David Cameron's reshuffle.
The coalition partners disagree about replacing Trident.
Britain's nuclear weapons system is currently made up of four Royal Navy Vanguard submarines, based at the Faslane naval base on the Clyde, which can deploy Trident ballistic missiles carrying nuclear warheads.
The Conservatives want the existing fleet replaced while the Lib Dems do not support renewal and have argued for a review to look at alternatives.
Danny Alexander, who is MP for Inverness, Nairn, Badenoch and Strathspey, has repeatedly insisted that he believes spending on the nuclear deterrent does not represent the best use of taxpayers' money.
Speaking at a party conference rally on Saturday, Mr Clegg said the Liberal Democrats had "stopped like-for-like replacement of Trident in this parliament and started the search for alternatives".
He added: "I have decided to put Danny Alexander in charge of the review into the replacement for Trident.
"Danny has spoken out repeatedly about how expensive and unnecessary a like-for-like replacement would be. And there is no one better when it comes to getting value for money for the taxpayer.
"I am more determined than ever to find the right alternative to such a monumentally expensive replacement for a Cold War deterrent."