Scot Willie Rennie in plea to English to make case for the Union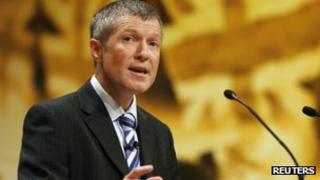 Scottish Liberal Democrat leader Willie Rennie has told party members that those living outside Scotland need to start making the case for the Union.
The Scottish government wants to hold a Scottish independence referendum in autumn 2014.
Only voters in Scotland will be able to take part in the ballot.
However, Mr Rennie said that even without a vote, people in the rest of the UK should have a voice in the constitutional debate.
He told the Lib Dem conference in Brighton: "I want the moderate, reasonable, open and welcoming voices from outside Scotland to be heard.
"You can speak up for what the UK means for you. Whether it's the National Health Service designed by an Englishman, delivered by a Welshman. Or it's the BBC founded by a Scotsman for the whole of the UK not just Scotland.
"Or the state pension introduced by Lloyd George; a Liberal Mancunian with a Welsh accent. Speak up for what Scotland means to you.
"It could be intellectual, with the Scottish Enlightenment giving us great thinkers like James Hutton, David Hume and Adam Smith.
"Or it could be as simple as having loved ones from Scotland and caring about the country our children will grow up in.
"Whatever you value I want you to make your voice heard. Promise me you won't leave the debate to the extreme views of nationalists."
The Scottish Lib Dem leader also told his party conference that post any independence vote, all parties had to work to deliver more powers for Scotland.
But he also ruled out any further referendum on additional powers.
Mr Rennie was also scathing of First Minister Alex Salmond, accusing him of "courting" the rich and powerful.
He said: "Alex Salmond's defence of Rupert Murdoch's empire revealed a politician prepared to do anything to get the support of the media - even if it meant betraying the phone hacking victims."
Coalition government
Mr Rennie claimed that his party, with only five MSPs at Holyrood, was making "an impact" on Scottish politics and added opponents of the Scottish Lib Dems were "privately fizzing" the party had not disappeared.
The Scottish Secretary, Michael Moore has also addressed the conference.
He said the Liberal Democrats would be at the "forefront" of the campaign to the UK together.
He argued his party's policies in coalition government was making life fairer in Scotland, on welfare reform and taxes, and he accused opponents of failing to acknowledge what's been achieved.
On the current negotiations on the detail of the independence referendum, Mr Moore declared he was "more confident than ever" that a deal on the terms of the vote could be done saying there was "goodwill" on both sides.