Scottish Labour leader Johann Lamont calls for debate on tax powers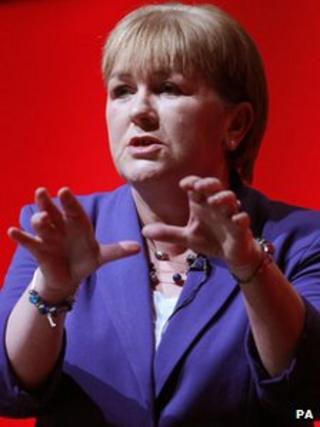 Scottish Labour leader Johann Lamont has called for a debate on the use of new tax-raising powers being given to the Scottish Parliament.
Greater control over income tax will be devolved in April 2016, just before the next Holyrood election.
Ms Lamont has already questioned whether all universal benefits provided in Scotland are affordable.
Her comments on the use of the new tax powers came in an interview with ScotsPolitics.com.
She said: "If you have got tax powers, you have to make a decision as to whether you would use them, whether people would find it acceptable, that's why I think there needs to be a debate just now."
The change was part of the Scotland Act, which became law this year.
It provided for income tax to be reduced by 10%, with the Scottish Parliament then deciding whether to bring it back up to the UK rate or another level.
'Come together'
Ms Lamont added: "And yes, we will look at the powers. The Scottish Parliament has been given new powers.
"Both the Scottish government and I am sure every political party will be looking at what the different options are that these now offer and the responsibilities and accountabilities that go with them.
"Now I certainly think everybody has to come together on these things, decide what your balance of taxation against services is, but the line that the SNP perpetuates is that it is possible to have Scandinavian-style services and not fund it."
Last week Ms Lamont called for an end to what she called the "something for nothing" culture.
The move was criticised by the SNP, with Deputy First Minister Nicola Sturgeon saying that Ms Lamont had become a "poster girl for the Tories".
Scottish Tory leader Ruth Davidson has said she wants to use Holyrood's new tax powers to cut income tax by one penny in the pound.
Welsh Labour
Meanwhile, the Labour first minister in Wales, Carwyn Jones, has repeated his commitment to maintaining free prescriptions there.
He told BBC Radio Wales: "We believe it's important that we have an NHS that's free at the point of delivery.
"We are not going to change the policy on free prescriptions."
Mr Jones was being interviewed by the BBC prior to his Labour conference speech in Manchester.
He added: "If you see a doctor for free then obviously medicines should be free as well."
In his speech to the conference he pledged the NHS would continue to be safe under his stewardship, "holding true to Nye Bevan's vision after six decades".