Scots councils 'do not explain' how they spend £40,000 a minute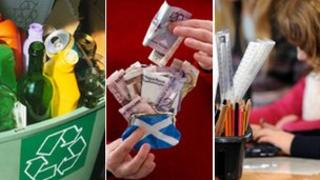 Scottish councils spend £40,000 every minute but are not properly informing the public about how it is spent, according to Audit Scotland.
The public spending watchdog said detail on how councils spent their £21bn annual budget was often "of poor quality, unclear and incomplete".
The report, which tried to find common themes across the 32 councils, said they had a "tendency to bury bad news".
The councils' umbrella body Cosla said it would not comment on the report.
Audit Scotland's report - Managing Performance: Are You Getting It Right? - does not focus on any council in particular.
It said reports produced by local authorities suffered from a lack of "balance", with positive messages taking precedence over areas which need improvement.
'Facts hidden'
The report advised councillors to make their reports "more balanced in terms of highlighting areas for improvement as well as the positive messages".
The watchdog said important facts were found hidden away in lengthy reports, making it difficult for councillors and other people to effectively scrutinise council performance.
The report said: "We have found that very lengthy detailed performance reports are not effective as important issues can be buried away in the detail."
Auditors also discovered a lack of "benchmarking", which it said had led to councillors failing to ask why other local authorities were able to provide services cheaper or better.
The report called for councillors to use benchmarking data.
It said: "Comparing performance trends against targets, over time and with other councils can prompt questions about performance such as 'why is it other councils appear to be performing better than us?' or 'why are other councils apparently providing cheaper services?'"
'Abandoned self-scrutiny'
There was also too much focus on computerisation of council systems over good management, according to the report, which found "inconsistencies in the coverage and quality of information available to enable councils to implement effectively performance management".
And it said some councils had abandoned self-scrutiny in areas where external auditors and inspectors regularly investigated.
"External scrutiny is not a substitute for rigorous self-evaluation," the report warned.
John Baillie, chair of the Accounts Commission, said: "It is particularly important at this time of tight financial pressures that councils do have effective performance management to maintain quality services and ensure they are getting the best value for every pound spent.
"We hope this report helps guide councillors and officials on the steps they can take to make it happen."