Scottish Labour leader Lamont's new powers group meets for first time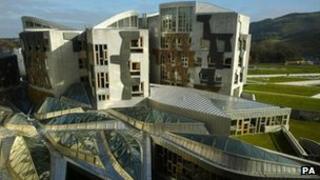 Labour's commission examining further powers for the Scottish Parliament has met for the first time - seven months after it was announced.
The commission, which is led by Scottish leader Johann Lamont and includes MPs, MEPs, union members and academic advisers, met in Glasgow earlier.
When she announced the commission last March, Ms Lamont said it would also consider what powers should be devolved to local government in Scotland.
It was at her party's Scottish conference gathering in that Ms Lamont announced the commission which would put Labour's case for "preserving the Union".
At the time she said the former chancellor Alistair Darling would play a "leading role" and former prime minister Gordon Brown would "play his role too" in the campaign to keep the UK together.
Central to the commission would be determining Labour's position on whether further powers, beyond Calman, should be transferred to the Scottish Parliament.
She also told the spring conference: "Devolution can't just mean powers going from London to Edinburgh.
"That means a radical look at not just what powers should the Scottish government have, but what powers does local government need, and which should be devolved further to local communities."
The Prime Minister has said he is open to looking at further devolution to Holyrood but only after a no vote in the Scottish government's proposed independence referendum which they hope to hold in the Autumn of 2014.
Labour said it hoped to have an interim report from its devolution commission in the spring of next year.
But the Scottish Labour leader said: "I'm delighted that our dedicated group discussing where decision making power should lie in Scotland has started its work.
"For too long, the issue of constitutional change has been about the false choice offered by the SNP. Decision making isn't just a discussion about Holyrood and Westminster: it's about where power should best lie to ensure that decisions which affect our communities are made at the most appropriate level, which does mean thinking about our councils too.
"All parts of the Scottish Labour movement have come together to ensure that we offer coherent and fit-for-purpose proposals to the Scottish people which meet their aspirations for Scotland."
The SNP said the fact they are more MPs than MSPs on the devolution commission showed that "Labour's strings are pulled from London".
A spokesman added: "This body is only meeting after it was revealed in the media two weeks ago that there was still no remit or membership for it, and that it hadn't met once six months after being announced by Johann Lamont.
"Labour's foot-dragging on this commission reflects the fact that the anti-independence campaign is Tory-led."
An announcement on the outcome of negotiations between the UK and Scottish governments over the handling of a referendum is expected shortly.