Scottish independence: Lib Dems to unveil 'Home Rule' plan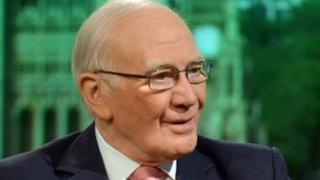 Scotland would raise around two thirds of all the money it spends, under proposals due to be unveiled by the Scottish Liberal Democrats.
The plan is contained in the party's blueprint for 'home rule' which has been obtained by BBC Scotland.
The Lib Dems hope other parties will adopt the proposals if voters reject independence in the 2014 referendum.
It proposes, however, that the Act of Union between England and Scotland should be scrapped.
The radical plans are among 56 recommendations made by a commission chaired by former party leader Sir Menzies Campbell.
The commission's report is due to be released on Wednesday.
A leaked copy suggests allowing the Scottish Parliament to collect almost all income tax, capital gains tax, inheritance tax and air passenger duty - but not VAT, alcohol or excise duties.
It also proposes the UK adopting a federal system, which would create a series of regional and national parliaments and assemblies across the United Kingdom, with a federal government retaining powers over foreign affairs, defence, currency, welfare and pensions.
The report acknowledges that different parts of the UK may wish to move at different speeds towards federalism, adding: "The move to home rule status for Scotland, in which it enjoys a federal relationship with the rest of the United Kingdom, is a first stage that can proceed ahead of the rest."
In his introduction to the report, Sir Menzies said it was his "firm belief" that the proposals were in the best interests of every part of the UK - not just Scotland.
He wrote: "The ideas and structure we have laid out are unlikely to be achieved in one leap. Our priority is to secure and entrench a broader home rule settlement for Scotland, but there can be no doubt that this would benefit from major change at Westminster too.
"Over time, we are confident that the constitutional debate in England, currently under-developed, will progress and reach a conclusion - but time will be required for that debate.
"We expect that Scotland will contribute to the terms of that debate, at least by example, but it is for people in England to determine how they wish their own national and regional identities expressed within the constitutional structures of our United Kingdom."
He added: "Scotland will thrive with the fiscal responsibility and authority that comes with home rule, but that home rule settlement can only be stable if it forms part of the move to a truly federal United Kingdom. We shall promote home rule and federalism at every opportunity.
Home rule has been an ambition of the Lib Dems for 100 years, and the commission provides the party with an argument with which to fight independence, BBC Scotland's political correspondent Tim Reid said.
And a federal system, Sir Menzies argues, answers the age-old West Lothian Question of how purely English matters should be dealt with at Westminster, and he says the Act of Union should be replaced with a Declaration of Federal Union.