SNP conference 2012: Pledge to help English police after independence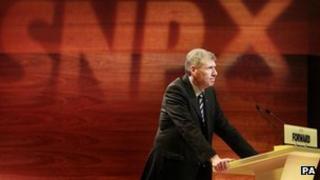 A pledge has been made that Scotland's police would continue to support English forces during riots or major events if independence happened.
Justice Secretary Kenny MacAskill told the SNP conference in Perth that crime should be tackled "wherever it may be".
He was speaking ahead of giving the opening address to the Association of Chief Police Officers (Acpo) of England and Wales next week.
The SNP is working towards winning a referendum on independence in 2014.
An agreement between the Scottish and UK governments was signed earlier this week paving the way for a historic vote in two years' time.
Ahead of the Acpo meeting, Mr MacAskill told SNP delegates in Perth: "I'll assure them that in an independent Scotland we'll continue to remember those who have given their lives and co-operate across the border in tackling crime wherever it may be.
"Mutual aid will continue to be given by Scottish police as with supporting the Olympic Games or tackling rioting in English cities.
"Mutual aid will continue to be reciprocated here by English and Welsh officers as for the Commonwealth Games in 2014.
"Mutual aid will continue whenever it is felt necessary and appropriate by our chief constable."
He added that an independent Scotland could show how policing could "really be done".
From next April, Scotland's eight police forces will be merged into a single, national force in a bid to save cash without hitting frontline operations.