Scottish Lib Dem leader calls for more Holyrood powers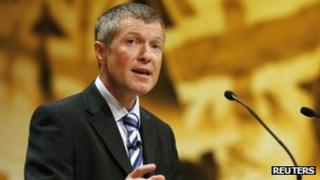 The Scottish Lib Dems have gathered in Dunfermline for their autumn conference, with a call for increased powers for the Scottish Parliament.
The party has put forward proposals for "home rule" for Scotland, which includes major new financial powers.
Party leader Willie Rennie claimed the move was more popular with voters than the option of independence.
He said people wanted assurances that an independence no vote would not mean there would be no change.
Mr Rennie told delegates: "Home rule for Scotland in a federal United Kingdom keeps us as a powerful force for good in the world."
He said it would give the Scottish Parliament permanent constitutional powers and financial powers which would see up to two-thirds of spending raised through taxation controlled in Holyrood."
The Scottish Lib Dem leader called on the SNP to join the debate about the development of a stable model for the UK, if it lost the independence referendum in 2014.
"Our plans for home rule in a federal UK should be the rallying point," he said.
"It is what people want and we are determined to deliver it."
'Guessing game'
He also challenged the SNP to publish the "legal evidence" for its assertion that an independent Scotland would remain in the European Union.
"The SNP have simply got to stop the guessing game on separation," he told conference.
"People shouldn't have to guess about the terms to be part of the European Union.
"We all have to see the full argument and the legal basis, and see that it has been accepted across Europe."