University funding could be cut under independence, claim Tories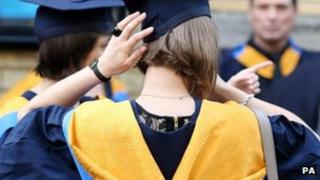 An independent Scotland would lose £200m a year in fees from students from the rest of the UK, the Scottish Tory Party has claimed.
It points to a report from the Scottish Parliament Information Centre (SPICe) which says the figure could be as much as £263m by 2014/2015.
The party said an independent Scotland would foot the bill of English students who would be classed as from the EU.
However, the Scottish government said the claim was based on outdated stats.
A spokesman said more investment had been put into Scottish universities in the most recent spending reviews.
Conservative MSP Liz Smith insisted that if Scotland were to go-it-alone, the Scottish taxpayer would have to foot the bill of reduced fees.
She said students from England, who currently pay fees of up to £9,000 to study in Scotland, would be treated the same as students from the Republic of Ireland and mainland Europe and not pay.
Ms Smith, the party's education spokeswoman, said: "At a time when the overall competence of the Scottish government has been seriously undermined, yet more questions have arisen about the size of the funding gap and the full cost of higher education.
"This would have to be borne by the taxpayer if Scotland was to become an independent country."
She added: "SPICe has estimated that the Scottish government has already underestimated the funding gap by more than £100m and if even more EU students are applying too, then that increases the financial burden for the taxpayer further.
"As well as this we know that, in an independent Scotland, Scottish universities would no longer be in a legal position to charge fees torRest of the UK students. The Scottish government needs to tell us exactly what the arithmetic is and how it will find the extra funds."
However, a spokesman for the Scottish government said the assertions made by the Conservatives were not accurate:
He explained: "These claims are based on out of date figures and does not reflect the investment put into Scottish universities in the most recent spending reviews.
"Funding arrangements for EU students, which will include students from the rest of the UK post independence, are currently being considered and at this point predictions of what those arrangements might be or and what number of students from the rest of the UK might apply to Scottish universities, are purely speculative."
The research paper by SPICe looked at the Draft Budget 2013/2014 for Higher Education and all funding available to universities both north and south of the border.
The authors of the report concluded that identifying an exact future funding gap figure would be "difficult" and was dependent on "multiple variables on both sides of the border."