Scottish independence: Ex-SNP grandees issue EU warning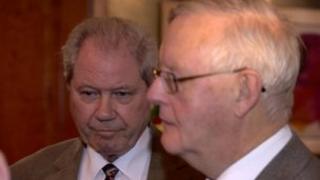 Two former SNP grandees have warned the independence campaign could be damaged unless the Scottish government comes up with an alternative to EU membership.
The comments from Jim Sillars and Gordon Wilson followed a row over whether an independent Scotland would remain in the EU.
They said the government should talk to members of the European Free Trade Association (Efta).
SNP ministers will set out an independence prospectus next year.
Ahead of the publication of the white paper and 2014 referendum, the government said an independent Scotland would continue as an EU member.
The SNP's opponents have raised the prospect of Scotland having to negotiate with the EU as a new member, in the event of a "yes" vote.
Mr Sillars, a former deputy SNP leader, and Mr Wilson, who previously led the party, suggested exploratory talks be held between the Scottish government and Efta members, which include Norway, Liechtenstein and Iceland.
Efta states share an "internal market" with the 27 EU states as part of the European economic area.
Mr Sillars said of the EU row: "We are very concerned that this has been allowed to damage the 'yes' side because, with all due respect, the answers have been simply assertions and I think those assertions are going to be no longer good enough.
"You have to have some substance in your rebuttal of the no side in respect of the EU."
Debate suspended
Mr Sillars and Mr Wilson also said consideration should be given to joining Efta to strengthen an independent Scotland's hand in negotiations with other EU members, if there was no automatic right of entry for Scotland to the EU.
The Scottish government said Scotland had been part of the EU for 40 years and "eminent experts" had supported the argument that an independent Scotland would continue to be a member.
SNP ministers recently revealed, under opposition pressure, that they did not hold any specific legal advice on whether an independent Scotland would remain within the European union.
The European Commission told the BBC last week it would offer an opinion on whether an independent Scotland would remain within the EU, but only following a request from a member state, like the UK government.
But ministers in Westminster have ruled out seeking Commission advice before the 2014 independence referendum.
The Scottish government has not asked the UK government to to ask the EC for advice either.
Meanwhile, a House of Commons debate on Scotland's post-independence membership of the EU was cancelled after the Scottish Labour MP who sought it failed to turn up.
Pamela Nash had been expected to open discussions in Westminster Hall, but the sitting was suspended after she did not appear.