Audit Scotland warning over Scottish police service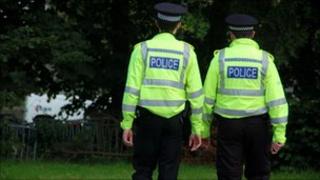 Scotland's new national police force must ensure it delivers an effective service against a backdrop of cuts, the spending watchdog has warned.
A joint report by watchdog Audit Scotland and the police inspectorate said current services were well-run, but faced challenges going forward.
It said there were "indications" that backroom jobs were being filled by serving officers.
The eight regional police forces are being merged into one.
The new police service of Scotland and Scottish police authority will be up-and-running from April 2013, a move which the Scottish government says will save about £1.4bn over 15 years without hitting front-line services.
The report, which looked back at previous inspections of the eight forces, said they had a "good understanding" of local needs and had boosted community policing.
But, amid a 12% decrease in civilian support staff over the past three years, it warned care must be taken to make sure ensure services were efficient and could be sustained.
The report said there were "some indications" that police staff roles were being covered by police officers in the short-term, adding: "At a time of continued financial pressures, there is a risk that this is not an efficient and sustainable use of resources if adopted in the longer term".
It added that councillors who sit on local police boards were responsible for £942m of spending on services, but had not been given the training to hold them to account.
The report concluded leadership and scrutiny by councillors was poor and, in many cases, approved budgets in a "passive" manner, instead of asking robust questions about the figures.
'Considerable strengths'
John Baillie, chairman of the Accounts Commission, which aims to ensure good use of taxpayers cash, said: "Looking forward to the new policing structure, it is clear that important lessons can be learned from what we have at present.
"It is critical that the respective roles of the Scottish Police Authority, the Police Service of Scotland, local authorities and their partners are clearly understood and that policing services are managed in accordance with well-established principles of good governance and accountability."
Scotland's police inspector, Andrew Laing, added: "The police service in Scotland is undergoing the most significant organisational change in its history.
"I am confident that it will retain its considerable strengths, such as community policing, but close attention is now needed to ensure effective accountability, scrutiny and inspection are maintained."
Elsewhere, the report said the crime rate in Scotland was lower than in England and Wales for most types of offences, while the "fear" of crime was falling.
But it added violent crime per head of population was higher in Scotland than the rest of the UK and elsewhere in Europe, while there had been a rise in reported levels of domestic abuse and racially-aggravated crimes.
The report added this could be down to increased confidence in reporting such crimes but said there could be other reasons for the rise.
A spokesman for the Scottish government said: "The new service will eliminate duplication by doing things differently and working more effectively and efficiently saving £1.4 billion over 15 years.
"Administrative support services - including HR, Finance and procurement - are currently duplicated across 10 police organisations and cost over £40m per year. These will be significantly streamlined to support a single service, a single Chief Constable and one senior management team."
Scottish Liberal Democrat justice spokeswoman Alison McInnes said she remained concerned about the impact a single police force could have upon local policing in Scotland.
Labour MSP Lewis Macdonald said the party had been warning the Scottish government for months "that plans to slash the number of police staff will result in a less effective police service and from this report, Audit Scotland agrees."
Scottish Conservative chief whip John Lamont, added: "It is concerning that so many key people haven't been prepared for such a significant change."
Local government umbrella body Cosla said it was important the Scottish Police Authority robustly challenged and held the Chief Constable to account to ensure communities across Scotland continued to receive a high standard of policing and crime rates continued to fall.