Scottish independence: Minister Hugo Swire raises EU membership doubts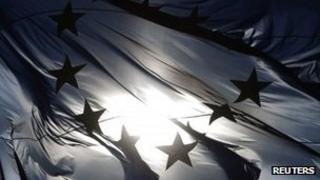 Foreign Office minister Hugo Swire has told a House of Commons debate that an independent Scotland would "most likely" have to apply to join the EU.
He also argued that there would be no guarantees about future membership.
However, SNP MP Pete Wishart said unionist parties were increasingly scaremongering on the issue.
The question of whether a go-alone Scotland would automatically retain EU membership has been at the heart of the constitutional debate.
In opening the special debate, chaired by David Crausby, Labour MP Ann McKeckin accused the SNP government of not fully answering whether it was given legal advice on the issue of an independent Scotland in Europe.
The Scottish government said it had not previously commissioned specific legal advice, but would now do so.
The SNP administration asked last month for the Lord Advocate Frank Mulholland to give that advice.
The issue of EU membership was first publicly highlighted by Labour MEP Catherine Stihler in May 2011, when she wrote to the Scottish government asking if it had sought advice.
Ministers refused to reveal whether information existed or was held by the government, saying it was exempt from freedom of information laws.
During the Scotland in Europe debate at the Commons, Ms McKeckin told MPs she was well aware that First Minister Alex Salmond had now asked Mr Mulholland to give that advice.
EU legal advice
However, she said she still wanted to know if he had "already had advice from the Scottish legal directorate".
The Nationalists' Mr Wishart welcomed the opportunity to discuss the issue, but said listening to the arguments over the last few weeks it was clear to him how low the debate had fallen.
He added that a day no longer passed without more scaremongering about an independent Scotland being out of Europe.
Mr Wishart told the debate: "After independence, we will be members of the European Union."
He added that the only threat to Scotland in the EU was coming from the anti-European Tories at Westminster.